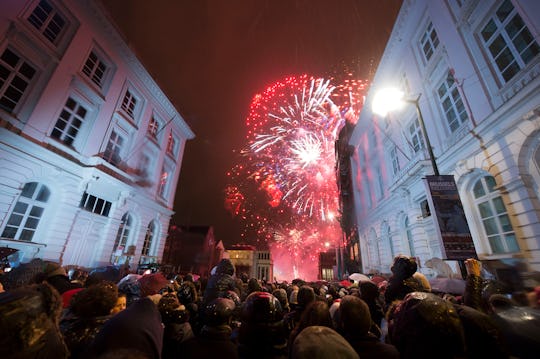 Brussels Cancels New Year's Festivities After Terror Threats & Cities Around The World Are On High Alert
Belgian officials announced Wednesday that Brussels' New Year's festivities had been canceled due to a terror threat, according to CNN. The annual event, held in Belgium's capital, normally draws countless spectators — and the safety of that crowd is presumably the reasoning behind Mayor Yvan Mayeur's choice. Mayeur told the state broadcaster RTBF:
Together with the interior minister, we've decided to not have the celebrations on Thursday evening.
The cancellation comes after Belgian authorities arrested two people who they suspect were involved in planning attacks on "emblematic sites" in Brussels during New Year's celebrations, according to CNN. It's unclear if the events cancellation is a result of that plot, but what is known is that Brussel's mayor Yvan Mayeur made the decision after several consultations with national authorities.
The threat level for Brussels and Belgium is 3, the second-highest level — but it has been level 3 for some time, according to BNO. While there is no word on whether officials plan to raise the threat level as a result of this new threat, Brussels was on its highest alert (level 4) for several days last month. During that threat level, all major events were canceled, public transportation was shut down, and soldiers were deployed throughout the city.
Brussel's decision also comes on the heels of a warning from a foreign intelligence agency to European capitals. The warning said terrorists might have been planning an attack that would occur between Christmas and New Year's Day, according to BNO News. It also came about just hours after Turkish police announced they arrested two people on suspicion of planning a separate New Year's Eve attack on Turkey's capital, Ankara.
And while no credible threats have been made in the United States, cities across the U.S. are also tightening security — specifically in high-profile locations tied to New Year's celebrations, including Washington D.C., New York City, and Los Angeles (home of the Rose Bowl). According to CNN, "the FBI is boosting the number of agents and staff in some of its 24-hour command centers around the country...[and] New York City says it will have 6,000 police near Times Square, the biggest such deployment ever."
CNN also reported that some of the overseas warnings mentioned by authorities were "possible attacks in three major U.S. cities, New York, Los Angeles and Washington, between the Christmas and New Year holidays," according to senior U.S. officials briefed on the matter. But that threat was "uncorroborated and was based on a single source," according to CNN.
It's clear that after the Paris terror attacks and the attacks in San Bernardino, officials around the globe are on high alert and will only continue to act with an abundance of caution.
Image: AFP/Getty Images (2)