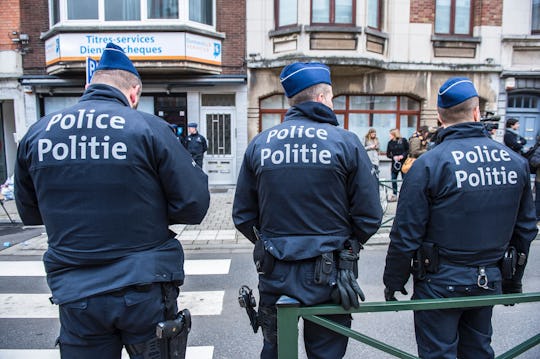 LAURIE DIEFFEMBACQ/AFP/Getty Images
Brussels "Man In A Hat" Suspect Confesses To Attacks — REPORT
Another terrorist from the March attacks in Belgium has been found and charged. Mohamed Abrini, the "man in a hat" confessed to the Brussels airport attack. According to Reuters, Abrini had been on Europe's most wanted list since December 2015 but was just apprehended on Friday and was held overnight. He admitted to being the man in the light colored jacket in the now-infamous image of three men pushing luggage carts through Brussels airport on the morning of the attacks. Najim Laachraoui and Ibrahim El Bakraoui were identified as the other two men who blew themselves up in the attack. Prosecutors said in a statement, according to MSNBC, that Abrini "explained having thrown away his vest in a garbage bin and having sold his hat afterwards."
Abrini, 31, is being charged with participating in "terrorist murders" and taking part in the "activities of a terrorist group," according to NBC News. He has actually been on the run since the Paris attacks and authorities believe he is also the man spotted with Salah Abdeslam, the last suspect to be apprehended for the November attacks in Paris, in a convenience store just days before the suicide bombings in Brussels.
Abrini grew up with Abdeslam, accompanied him to Paris on Nov. 13, and presumably resided in the Molenbeek apartment with Abdeslam, as his DNA was found there on Friday, according to The New York Times.
According to Reuters, a spokesperson for the Belgian prosecutors in charge of the case said that Abrini had "no other choice" but to confess. The prosecutors also believe that Abrini had lived in Belgium in between the two attacks and likely has more information about them and the terrorist groups involved. In addition to Abrini, Belgian officials also caught three other men they believe to have been involved in the attacks, Osama K., Herve B.M., and Bilal E.M.
These three have also been charged with participation in a terrorist group and terrorist activities. All four of the men were captured on Friday after over 50 Belgian police officers shut down and evacuated the Brussels suburb, Etterbeek, as part of an anti-terror operation.
Belgian Prime Minister Charles Michel said his government feels "positive about the recent developments in the investigation. But we know we have to stay alert and cautious," in a news conference. Abrini and the other suspects will continue to be investigated in the coming days.