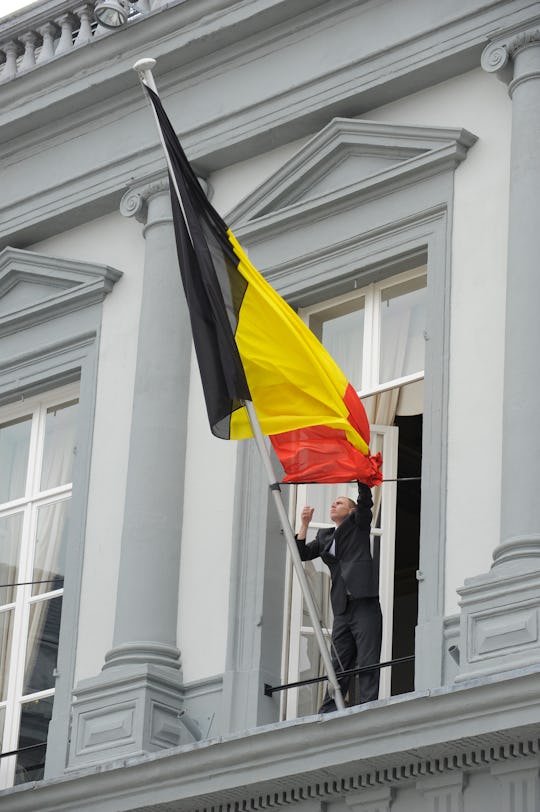 JOHN THYS/AFP/Getty Images
Brussels Memes To Post In Solidarity & Tribute For Victims Of The Belgium Attacks
It's become a common reaction to show solidarity with the victims of terror all over the world — to post memes and symbols in defiance against hate and violence, denounce terror and collectively acknowledge the suffering of victims. And just hours after the deadly attacks on Brussels, social media is predictably filling with posts the colors of the Belgian flag — red, yellow and black along with the heartbreaking images of a bustling, major city shattered by violence on a quiet, Tuesday afternoon. So as the world continues to learn more about today's terror attacks, there are at least a few Brussels memes and tributes you can share on social media to help express your own sadness and outrage and let the people of Belgium know the world stands with them.
Several social media hashtags have emerged following the Brussels terror attacks. People around Brussels are using the hashtag #ikwilhelpen, or "I will help" in Flemish to offer rides or a place for stranded travelers to stay. Worldwide, the hashtag #Brussels is currently trending, and with a nod to the Paris Charlie Hedbo #JeSuisCharlie tribute, people are rallying around #JeSuisBruxelles to show solidarity, express grief and disbelief, and send condolences to those impacted.
This meme uses the famous image of the Brussels statue, Manneken Pis, which translates to "little pee man" in English.
Other memes focused on the Belgian flag and similarly touching tributes:
This tribute from French cartoonist Plantu, and published by Le Monde, is a moving way to show France stands with Belgium.
The character Tintin is weeping here to pay tribute to Brussels. The cartoon was created by Belgian Georges Remi.
More memes featuring little pee man also began making the rounds as the day went on:
Still others expressed frustration that yet another major terror attack had taken the lives of so many innocent people:
Belgian frites flipping the bird adds a bit of defiant humor on a very sad day.
Simple messages of love were abundant:
Although the Islamic State came forward on Tuesday evening local time to claim responsibility for the attacks, the investigation and rescue efforts in Brussels are still ongoing. More information will be released by Belgian authorities as it comes in. For now, mourners across social media everywhere continue to show support and solidarity with the victims in any way they can.