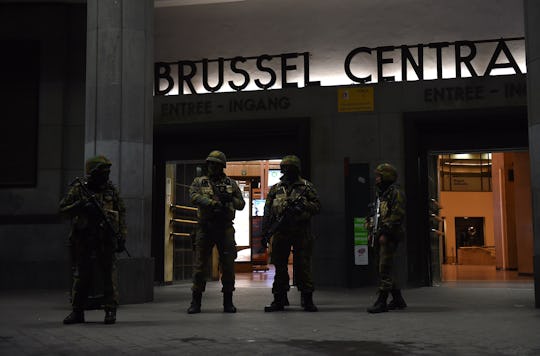 Brussels Raids Didn't Locate Salah Abdeslam, Paris Attacks Suspect
Belgian police made 16 arrests Saturday linked to the terrorist assault on Paris Nov. 13, but after the Brussels raids, Paris attacks suspect Salah Abdeslam is still at large. Police believe that Abdeslam, the final Paris attacks fugitive, remains alive and is somewhere in the Belgian capital. Soldiers and armed police remain on the streets of Brussels, and the metro system and many shops and venues have been closed. The threat level was raised on Friday after a weapons hoard was found in Molenbeek, a district of Brussels, in the home of one of three people arrested in connection to the Paris attacks.
Also arrested in Brussels this week was suspect Hamza Attou, who is believed to have helped Abdeslam return to Belgium after the attacks in Paris. Attou's lawyer, Carine Couquelet, suggested on Belgian television that Abdeslam may be carrying a suicide belt. Abdeslam's brother Mohammed spoke to Belgian TV to urge Salah to surrender.
Interior Minister Jan Jambon cautioned that the danger was not due only to Abdeslam, telling Flemish news VRT, "The threat is broader than the one suspected terrorist."
19 searches were carried out in Brussels, along with three in Charleroi, south of the capital, although no weapons or explosives were found outside of Molenbeek. During the Molenbeek raids, two shots were fired, said Belgian federal prosecutor Eric Van Der Sypt at a news conference Sunday.
Belgian Prime Minister Charles Michel said the threat level will remain on the highest level alert, and that universities, schools, and the metro system will remain closed for the time being. Michel said authorities fear "an attack similar to the one in Paris" — which killed 130 people in multiple locations.
The BBC reports that another perpetrator of the Paris attacks arrived in Leros, Greece in early October, to continue through Europe along with Syrian refugees. He was the third suicide bomber at the Stade de France.
French media report nine militants were involved in carrying out the attacks, and that seven died the night of November 13th.
This story is developing...
Image: EMMANUEL DUNAND/AFP/Getty Images