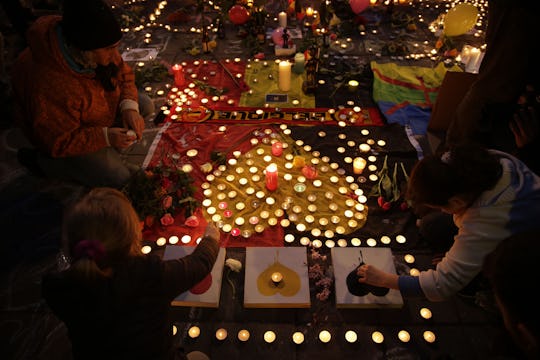 KENZO TRIBOUILLARD/AFP/Getty Images
Brussels Tributes On Social Media Show Solidarity & Support Know No Borders
On Tuesday morning, the people of Brussels were struck by tragedy when three explosions throughout the city left 34 dead and more than 170 people injured. The first two attacks occurred at Brussels' Zaventem Airport around 8 a.m. local time. The second explosion took place about an hour later at a Belgium subway station near the suburb of Maalbeek. As with any tragedy of this nature, people around the world have come together to show support for the victims and citizens of the attacked country. And the biggest signs of support can be found in the Brussels tributes on social media.
(Update: ISIS has claimed responsibility for the terror attacks in Brussels Tuesday.)
Some may say posting a photo, however powerful it may be, doesn't do anything to help the victims. And to some degree, they have a point. Changing the filter on your Facebook photo doesn't help the people of Brussels as much as a blood donation or shelter. But when you are thousands of miles away from the tragedy, sometimes the only thing you can do is offer your condolences through social media. And it does help. It shows the victims, their families and friends, and the citizens of the city that you stand by their side, sympathize for their situation, and support the next steps that will taken to end future attacks of this magnitude.
Here are just a sampling of Brussels tributes that has risen to the social media surface since the strikes this morning.
Show Of Solidarity
French cartoonist Jean "Plantu" Plantureux, who is known for his artistic satire, created this moving image that shows the solidarity between two countries that were rocked by terrorist attacks. Time also reported that that the Eiffel Tower will be lit in Belgium's colors tonight to show support for the people of Belgium.
Standing Against The Terrorist
This meme of Manneken Pis, a famous Brussels' sculpture of a naked little boy, peeing on riffles is making it's way around the web.
The Belgium Flag
Many people, including celebrities Kris Jenner and Kendall Jenner, have posted works of art that honor the Belgium flag's hues.
Tin Tin Tributes
People around the world have been using image from Tin Tin, a cartoon created by Belgium-born Georges Remi, to show their sadness over the attacks and their support of the country.
Love For Belgium
Simple hearts in the colors of the Belgium flag are making their way around the web.
Street Side Memorials
People in Belgium have begun laying flowers and lighting candles for the victims of the attacks.
The Power of Song
Brussels concert hall Ancienne Belgique, posted a video of people gathered in the center of the city.
This story is developing. . .