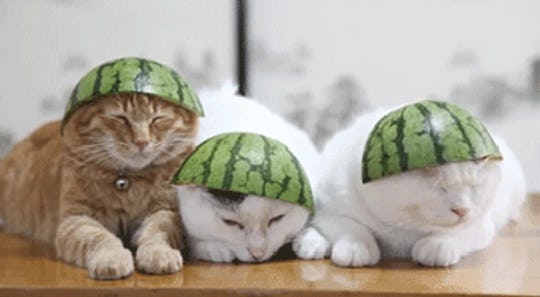 Brussels Tweets Cat Pics During Lockdown, & Here Are The Best GIFs To Show Solidarity
As a police lockdown took place in central Brussels Sunday night after the Nov. 13 attacks in Paris, federal police asked the public to refrain from sharing police operations on social media. In response, people have been tweeting pictures of... cats, because is there a better way to diffuse the tension after a week on high alert?
Police are still searching for terrorists who have threatened the Belgian capital, as well as suspects connected to the Paris attacks. Brussels has remained on its highest level of alert, the metro remained closed throughout Sunday, and many events have been called off. Venues and shops have closed, and people have been warned against visiting airports and train stations.
Want to show the residents of Brussels that they have your support? Want to show that you aren't tyrannized by the fear that's swept the globe since Nov. 13? Get to Twitter and get your cat on. Here are some of the best cat GIFs we found to contribute to the conversation:
Feline Armored Division
Who's Boss?
When The Enemy Never Sees You Coming
Don't Blow Your Cover!
Courage In Adversity
In No Condition To Tweet Anyone's Whereabouts
Fearless
So Stealth
Further proof that the Internet's best way to deal with anything is, well, cats.
Images: Giphy (5)