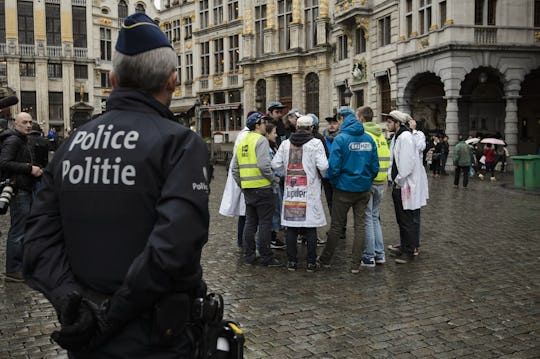 Brussels Warns Of "Imminent Attack" After Arresting Third Accomplice In Paris Attacks
One week after the terror attacks in Paris, Belgium has raised the terrorism threat level in Brussels to a level four, which means "severe and close." So, based on that unsettling description, will terrorists attack Brussels next? Authorities aren't taking any chances. In a statement, the Organe de Coordination pour l'Analyse de la Menace (OCAM), a counter terrorism arm of the Belgian interior ministry, said about intelligence, "The analysis shows a serious and imminent threat requiring specific security measures as well as detailed recommendations to the population." Authorities are urging people to stay away from crowded places like concerts or public transport.
The heightened security comes after Belgian officials arrested a third man in connection with the attacks in Paris last week. This week, they also arrested Hamza Attou and Mohammed Amri, who were charged with aiding fugitive Salah Abdeslam (who is still at large) on the night of the Paris attacks. Abdeslam is a Brussels resident and was close to the alleged Paris attack "ringleader" Abdelhamid Abaaoud, who was killed in police raid on Wednesday. Both Abaaoud and Abdeslam grew up in the Molenbeek district in Brussels. According to various reports, the district is called "Jihad Central"— according to the New York Times, most recent terrorist plots, from the attacks in Paris last week to the Madrid train bombings in 2004, have some connection to Molenbeek.
OCAM is not releasing any further information until late Saturday, pending their investigations, according to reports.
Image: Nicolas Lambert/Getty