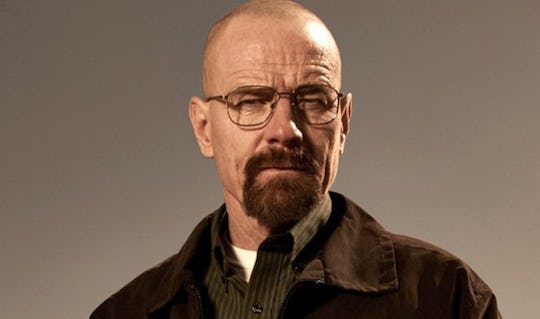 AMC
Bryan Cranston Appeared As Walter White On 'Saturday Night Live' In An Amazing Cold Open
Saturday Night Live has been known for throwing a few special cameos our way in the past (remember how Jennifer Aniston popped in just last week?), but this weekend deliver the best surprise yet. Bryan Cranston appeared as Walter White on Saturday Night Live in what has to be the best cold open ever. (I know, it was basically the greatest thing to ever happen.) It all started when Beck Bennett opened the skit with his amazing impersonation of CNN host Jake Tapper. He discussed some of the puzzling choices President-elect Trump has been making in regards to his Cabinet.
That's when he decided to introduce Trump's newest choice for the head of the Drug Enforcement Agency (DEA): a high school chemistry teacher known as Walter White. This in and of itself is a great joke, but it was made even better when Cranston was actually there to reprise the role himself. For those of you unfamiliar with the infamous character (do those people even exist?), Walter White is the main character in the popular AMC series, Breaking Bad, which came to a close back in 2013. And while he did start out as an innocent chemistry teacher, by the end of the series he was one of the most powerful drug kingpins in the country who went by his alter ego Heisenberg.
And even based on the brief skit we were given, it looks like Cranston had absolutely no trouble getting back into character. He mention how he had never met Trump before and doesn't know much about him, but he supports many of his decisions, such as building a wall to help keep out the competition. When Tapper asked if he was referring to jobs, Cranston's White smirked and said, "Sure." He then concluded the scene by changing up Trump's well known mantra "Make America Great Again" with "Make America Cook Again."
It was a perfect moment and undoubtedly made many fans miss the series even more than they already do. (Is it too early to a start a petition for the show's revival? Please?) The hat, the glare, the deep and threatening voice — it was so great to have Walter White back in our lives again. And while I very much doubt Cranston will pop up throughout the rest of the evening, I'm just happy he was able to stop by to give us this early Christmas present.