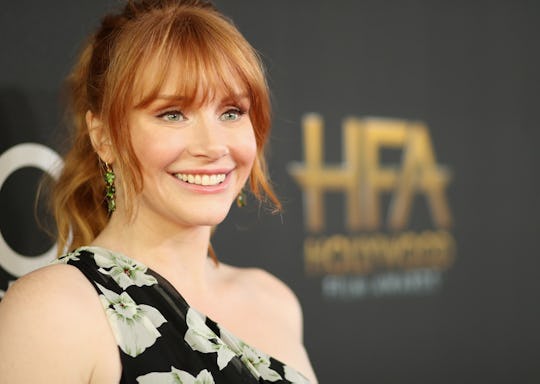 Christopher Polk/Getty Images Entertainment/Getty Images
Bryce Dallas Howard Has A Genius Trick For Spending Time Away From Her Kids For Work
It's always hard for kids to adjust with a parent being out of town for work or temporarily out of their lives for short periods of time. And the children of actors and actresses are probably used to this — their parents leaving for periods of time — and it likely still hurts every single time. But, Bryce Dallas Howard's trick to spending time away from her kids is pretty genius (and can definitely work for some parents).
The actress, most known for her role in the Jurassic Park series, is familiar with spending some time away from her kids, 11-year-old son Theodore, and 6-year-old daughter, Beatrice, according to People. After all, Howard has been starring in films since the early 2000's. So, of course, she knows what it is like to spend time away from her family for periods of time. And just because they're not super young doesn't mean that her kids are OK with her leaving every time — it gets harder and harder.
Luckily, Howard has a trick to sweeten this deal — telling her kids that she'll be starring in a movie they'll actually like, according to People.
"It's a very powerful negotiating tool," Howard told People. "I'll say, 'I'm going to be gone for a week, I'm recording a voice.' And they're like, 'Oh, how cute! A puppy!' Like, 'OK, cool!'"
And with the release of Howard's newest animated film, A Dog's Way Home, however, her kids will probably be delighted to know that Howard is not only voicing a dog but it will be one of the only films that they will be able to watch with their mom. Howard told People:
They have seen Pete's Dragon. Theo has since watched Jurassic World, one and two. Beatrice hasn't yet. This will actually be the second movie of mine that she's able to watch.
OK — so maybe most parents aren't movie stars who have been in beloved film franchises. So, when they go out of town, they can't exactly bribe their kids with the ability for them to see them in the film a year later. But, parents who travel can take a note from Howard's book.
They can sit their kids down and explain where they're going right as they're about to leave, according to Parents, and let them know that they will be going away from home for a few days. In the meantime, parents should keep everything normal. Dr. Rochelle Harris, a pediatric clinical psychologist in Kansas City told Parents:
Keep things on the home front as close to normal as possible. Having a parent away on business is already difficult, so it's best not to make any additional changes that will disrupt kid's lives.
And when parents come back from their trip, they should be sure to bring back a little something to reward their kids for good behavior while the parents are away. Parents should spend 15 to 20 minutes with their kids, catching up and showering them with love to let them know that they missed them, according to Parents.
Another actress, Drew Barrymore, has a similar method. Barrymore wrote in an Instagram post that she doesn't blame work for keeping her away from her young daughters — because she doesn't want them to grow up thinking work is a bad thing. "It's a good intention, but I am convinced I need to take a different approach," Barrymore wrote, according to TODAY. "I want to empower my daughters to think work is good and necessary. And can lead them to the road of their dreams."
So, when it comes time to shooting films, Barrymore employs a countdown calendar, which allows them to know how many days they have until they see her again.
Whether it's a countdown calendar, or a movie starring talking dogs, parents shouldn't be afraid to use a little bribery when it comes to making spending time away from their kids a little easier.