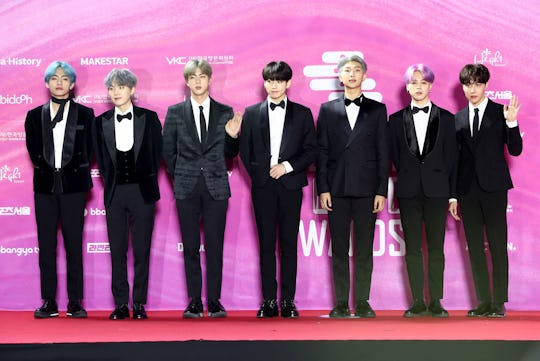 Chung Sung-Jun/Getty Images Entertainment/Getty Images
You Have To See BTS Dancing To Dolly Parton At The Grammys
If you've been on Twitter at all during the 2019 Grammy Awards, then you know that BTS stans have handily taken over the timeline. BTS dancing at the Grammys was Twitter's favorite moment by far, and it comes as no surprise when you hear who they were dancing to.
The seven-piece K-pop band out of Seoul, South Korea made their Grammys debut this year, and due to a massive contingent of fans watching along on Twitter, every adorable moment they had on-screen was captured for posterity. First up was their hearty applause for former First Lady of the United States Michelle Obama, who made a surprise appearance during the opening monologue to deliver an empowered speech about the importance of music. Cameras cut to BTS member Kim Tae-hyung, better known by his stage name V, during an audience reaction shot and he was seen giving her an enthusiastic round of applause. But that was nothing compared to the group totally fanboy-ing out over one of the biggest acts of the night. Kacey Musgraves, Katy Perry, Miley Cyrus, Maren Morris, and Little Big Town all assembled for an epic Dolly Parton tribute with Dolly herself performing a medley of her biggest hits. Cameras just so happened to catch BTS jamming out to "Jolene" in the audience and Twitter lost it.
You can see them singing and dancing along in clips that have been cut, screenshot, and gif-ed everywhere, so prepare for the meme flood to come. As Twitter pointed out, the moment was extremely pure, so it's pretty hard to be annoyed about it. BTS was on hand to present the award for Best R&B Album, which is actually a pretty big honor. It's a major award, and they're the first K-pop group ever to present at the Grammys.
"Growing up in South Korea, we always dreamed about standing on the Grammys stage," they said as they stepped up to present the award. BTS was also nominated for Best Recording Package (ie., artwork) alongside Mitski, St. Vincent, The Chairman, and Foxhole.
"Thanks to all our fans for making our dreams come true and we'll be back," they added with a wink.
If you're a little rusty on your K-pop figureheads and have zero idea who these cute rascals are, you may actually be more familiar with them than you think. They famously performed at the opening ceremony for the 2018 Winter Olympics in Pyeongchang, South Korea. Love Yourself: Tear is BTS' third studio album, responsible for jettisoning them to international stardom, and it was the first K-pop album to reach number one on the Billboard 200 albums chart, according to Billboard. They subsequently became the first K-pop group to perform at the American Music Awards.
In a Grammys red carpet interview with Variety, the band said they were hoping to collaborate with the likes of Camila Cabello, Travis Scott, Lady Gaga, H.E.R., and Post Malone at some point in the future. Although based on the fan response, it seems foolish to leave Dolly Parton and Miley Cyrus off that list.