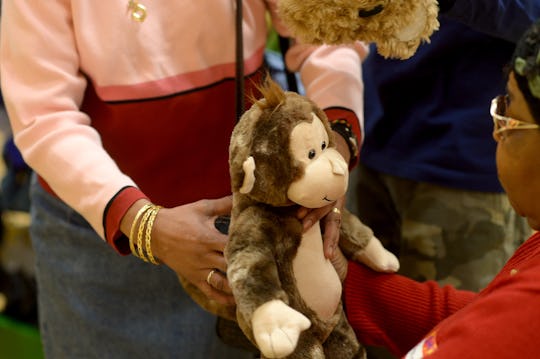 Gustavo Caballero/Getty Images Entertainment/Getty Images
Build-A-Bear Is Bringing 'Pay Your Age' Back & This Time It Could Actually Work
Parents across the United States were outraged on July 12 following Build-A-Bear's "Pay Your Age" day fail. The one-day promotional sale — that sounded excellent on paper — ended up being a disaster due to massive lines and safety concerns. And just a few hours after the sale launched, Build-A-Bear closed its stores per local authorities. Yep, the entire day was a complete mess. The good news? Build-A-Bear is bringing "Pay Your Age" back, and the company's new idea could be a big a success.
Even if you didn't wait for hours with your child at a Build-A-Bear store only to be turned away, there's still a good chance you can understand fellow parents' frustration at the "Pay Your Age" day fiasco. There's nothing more upsetting than a disappointed kid, right? Luckily, Build-A-Bear is making an effort to fix its mistakes, starting with its "Count Your Candles" program. Essentially, the "Count Your Candles" promo is very similar to the "Pay Your Age" concept. During your child's birthday month, they will receive a "Birthday Treat Bear" for the cost of their age, according to USA TODAY. The deal applies to any child under the age of 14, and parents must sign up for the Build-A-Bear Bonus Club membership online to participate. Rest assured the membership is completely free.
But wait — that's not all. In addition to Birthday Treat Bear's reduced cost (a regular bear costs about $14), children will get to participate in fun birthday celebrations with their bear. Build-A-Bear website's states:
When you celebrate a birthday with the Count Your Candles offer at Build-A-Bear Workshop, your child is in for a treat! Bringing their furry friend to life includes an extra special birthday heart and ceremony! They'll receive a birthday hat and sticker, and you can snap that PAWfect photo with a birthday cake photo prop! Don't forget to ring the birthday bell and join us in singing Happy Birthday to cap off the experience before they head off on adventures with their new furry friend.
Of course, there are a few stipulations for this promo. The "Count Your Candles" program only applies to the "new" Birthday Treat Bear, and any additional items (think accessories, outfits, etc.) will be sold separately.
So, what do parents think about this peace offering from Build-A-Bear? The reactions aren't very positive. Some people are annoyed the promo only applies to the Birthday Treat Bear, while others pointed out that it isn't a new deal. Interestingly enough, it seems as if the birthday deal was always an option for Build-A-Bear Bonus Club members.
"Also, note that the Pay Your Age promo for a kids birthday month is only good on the @buildbear Birthday Bear BirthdayBear," one person pointed out, according to Twitter. "Not on any stuffed animal like the promo yesterday. Just wish they would #makeitright and offer the same thing as the original promo."
And one mother of twins brought up a legitimate concern, writing, according to Twitter:
"Dear @buildabear - for the Count Your Candles program, I assume when you say "Limit one per guest" you mean to say: "Limit one per birthday kid" and not "Limit one per Bonus Club member", right? Sincerely, Mom of Twins - one membership, two kids who share a birthday."
Despite some parents' concerns, this promo seems like a good solution to the "Pay Your Age" day failure overall. I like how the "Count Your Candles" program includes a bunch of added perks, like the "PAWPerfect" photo, for instance. On the other hand, however, I understand why a few people are still upset given the promo's limitations. And I suppose some parents will have to make a tough decision about whether they'll continue to support Build-A-Bear. Either way, it appears Build-A-Bear is trying its best to move forward from its PR nightmare.