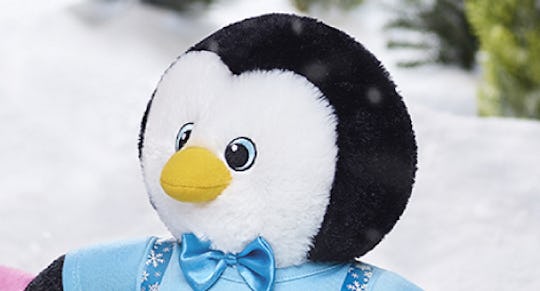 Courtesy of Build-A-Bear
Build-A-Bear's Black Friday Sale Includes $6 Penguins & A Can't-Miss BOGO Offer
With Black Friday just a few short weeks away, it's time to start mapping out your shopping strategy. What stores will you wait in line for, and which ones will you save for some Cyber Monday shopping at home? If you're like me, and have little ones that are all about stuffed animals right now, you'll want to hit up the Build-a-Bear's Black Friday 2018 sale, because there are some can't-miss deals to be had.
The Build-a-Bear (BAB) chain, known for it's customizable furry friends, is offering two major Black Friday deals for its holiday shoppers. On November 23, you can snag BAB's Doorbuster Deal, a 12-inch pink or black Snow Hugs Penguin for $6. Clothes and accessories, including the pictured dress, bowtie, suspenders, and shirt, are sold separately. And note that the penguins are limited to two per person, while supplies last, according to the company website.
BAB is also running a fun Black Friday BOGO offer: Buy one furry friend and get the next one for just $6, as long as it's of equal or lesser value. I have two young daughters who are most definitely in the stuffed-animal-as-lovey phase, and I know they'd go nuts being able to customize their own holiday furballs. Included in BAB's holiday line-up are customizable reindeer ($22, Build-A-Bear), with loads of adorable add-on outfits, like a Santa's Reindeer Comet Set ($44, Build-A-Bear) .
While you're at a Build-a-Bear location, there's also some extra holiday fun you can partake in as a family. At locations across the country, shoppers can sign the "Nice List," participate in a scavenger hunt, snap photos with BAB's beloved mascot Bearemy, and enter to win a Build-A-Bear Wish List. If your kids have reached the end of their rope on your Black Friday shopping spree, a quick pitstop into Build-a-Bear might be just what everyone needs to, you know, get back into the holiday spirit!
And if you think that Build-A-Bear is just peddling teddy bears, think again. The global chain has some awesome partnerships with other franchises, like My Little Pony, Star Wars, Pokémon, Paw Patrol, Barbie, Marvel, and Disney (think: Moana, Frozen, and Beauty & The Beast, and Mickey and Friends), according to the store's website. BAB has even teamed up with Girl Scouts of America to offer a customizable Campout Bear ($20, Build-A-Bear), with fun add-ons like a S'Mores Cookie Wrist Accessory ($4).
If you're looking for just the right gift for your little bears, or the other stuffed animal lovers in your family, head on over to Build-a-Bear this Black Friday for a 'beary' good time, and some big deals too. And if you end up getting a little caught up in the customizable furball fun, there's nothing wrong with walking out of there with your own personalized bear, right? You won't be the first, or the last, adult who's gotten in on the action.
Edit note: This post has been updated from an earlier version to reflect the correct cost of the Snow Hugs Penguins without it's pictured accessories.