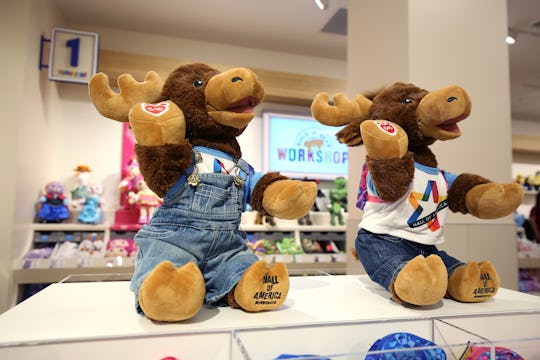 Adam Bettcher/Getty Images Entertainment/Getty Images
PSA: You Can Score A Cute Build-A-Bear For $8, But Only On These Days In December
Calling all parents looking for holiday deals: Build-A-Bear has a new promotion for December that will likely put you in a very festive mood. I'm talking major price reductions on furry friends galore, people.
Considering how quickly kids can go through toys, it's reasonable for parents to hunt down deals in anticipation of the holiday season. Not only do many parents have strict budgets to adhere to, but it can be frustrating to spend a pretty penny on a toy only to see it discarded a few weeks later.
If you're someone who can relate to these struggles, brace yourself for this amazing deal courtesy of Build-A-Bear — "Crazy 8 ReinDEALS." Between Dec. 1-8, "a selection of furry friends—including some of the hottest licensed characters—as well as select clothing items will be $8 each," according to a press release. Heck yeah.
Build-A-Bear will also offer "$8 off select furry friends throughout the eight-day period."
Considering these supplies might run out before you have the chance to buy, it's probably a good idea to sign up for the store's Bonus Club membership (don't worry, it's 100 percent free).
When you become a Bonus Club member, you'll receive emails from Build-A-Bear featuring the furry friends and clothing items that are part of the day's $8 offer. Translation: joining the Bonus Club will give you a head start on each day's sale.
Additionally, the Bonus Club has a bunch of perks.
"The Build-A-Bear Bonus Club is a fun way for Guests to unlock special perks and exclusive offers! Members earn one point for every dollar spent (before tax, after discounts) in participating U.S., Canada and Puerto Rico Build-A-Bear Workshop locations or online," Build-A-Bear's website states.
Another awesome part of this promotion? Build-A-Bear plans to donate some of its products to the Marine Toys for Tots Foundation.
A press release states:
For every furry friend purchased in Build-A-Bear Workshop stores and at buildabear.com from Nov. 29 through Dec. 4, one teddy bear will be donated to the Marine Toys for Tots Foundation and given to a child in need—up to 20,000 bears. Shoppers who purchase a furry friend in stores during this timeframe will also receive an 'I Donated' sticker.
Another way you can donate? Drop off new and unwrapped toys to Build-A-Bear Workshop stores from Nov. 29 through Dec. 9. If you don't have the time to pick up a gift, there will be a donate option at checkout both online and in-store from Nov. 29 through Dec. 26. All proceeds will go to Toys for Tots.
But wait — there's more giving going on. Build-A-Bear announced on Wednesday that it's partnering up with John Legend to donate bears to children's charities.
"We teamed up with @johnlegend to donate 500 bears to children's charities – and you can help share even more!" Build-A-Bear's Twitter account wrote. "For every album of #ALegendaryChristmas sold at U.S. Workshops + online through 12/4, we'll donate an additional furry friend to a child in need up to 1,000 bears!"
OMG, how cute is Miles here? His presence in this photo makes this partnership especially sweet.
Happy shopping and donating, folks. And don't forget to sign up for Build-A-Bear's Bonus club to receive the latest info regarding its December promotion.
This first-time mom wants to have a home birth, but is she ready? Watch how a doula supports a military mom who's determined to have a home birth in Episode One of Romper's Doula Diaries, Season Two, below. Visit Bustle Digital Group's YouTube page for the next three episodes, launching every Monday starting November 26.