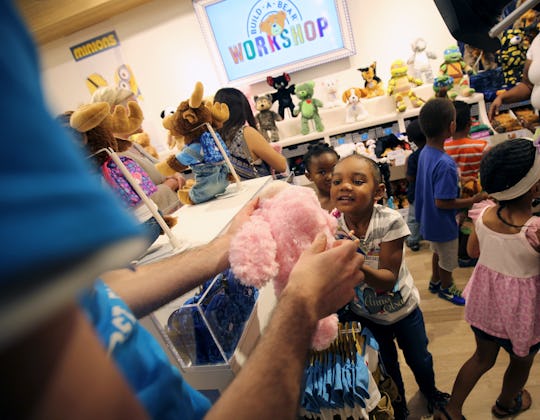 Adam Bettcher/Getty Images Entertainment/Getty Images
PSA, Parents: Build-A-Bear Just Announced A Pay-Your-Age Sale
Every parent knows that keeping kids entertained can easily become a costly endeavor, but no parent wants their child to be the one to miss out on such time honored traditions like constructing your own stuffed animal complete with a hand selected outfit and wished upon heart. With this in mind, one company has finally introduced something as unique as it is fiscally doable: Build-A-Bear's "Pay Your Age Day" is what every parent's wallet has been waiting for, and it's happening so soon.
On Thursday, July 12, as People reported, Build-A-Bear will be hosting an event in all of its U.S., U.K., and Canadian locations during which visitors will be able to create their own stuffed animal and, as the name implies, only pay the dollar amount of their age.
To participate, customers need to sign up for the company's Bonus Club, and must be over the age of 18, or be accompanied by an adult. Participants will be able to create any animal of their choosing, and only have to pay as many dollars as their age is. It caps out at $29, meaning that adults past the age of 29 only have to pay $29, but anyone below it will need to pay their respective age. So if you bring in your 3-year-old, you'll shell out $3 for a sweet bear.
According to press release via PRNewsWire, the "Pay Your Age Day" is an introductory event for an ongoing birthday promotion called "Count Your Candles." According to the company's official website, after July 12, guests who are 14 and under can go to Build-A-Bear during the month of their birthday and pay their age for a Birthday Treat Bear, which is a specific toy valued at about $14. These birthday guests will also receive a party hat, sticker and photo props to document the experience in a fun and engaging way.
In the same press release, Sharon Price John, who is the president and chief executive officer at Build-A-Bear explained that given how much of a childhood staple Build-A-Bear is, the company wanted to be able to offer an experience to kids from diverse economic backgrounds. The idea is that the company will offer a way for children to have fun and memorable birthdays for a fraction of the cost. She said:
We have overwhelming data that indicates Build-A-Bear is synonymous with childhood, and nearly one-third of our sales are associated with birthdays. We "heart" birthdays at Build-A-Bear, so we're hosting the Pay Your Age Day to launch our year-round "Count Your Candles" offer for Guests celebrating a birthday with us in stores—an experience we designed especially to commemorate birthdays in a memorable way.
The press release also clarified some important FAQs that parents may have when planning a trip to the store.
The offer is only valid if you are Bonus Club member.
You must be present in the store to redeem the promotion.
The offer is only valid for one guest per visit.
The offer cannot be combined with any other offers.
The minimum price is $1, meaning that if you bring a baby under the age of 1 in, they will still have to pay $1 to make their bear.
The promotion is also great to take advantage of during a child's birthday party. If you host a party with the company, every guest is able to take home their own stuffed animal, and the birthday child can take advantage of the Pay Your Age promo.
Regardless, on July 12, some of these exclusions do not apply. You will be able to pay the age of anyone you bring with you to the store (yes, that includes multiple kids) but the outfits and accessories are still sold separately. Either way, it's huge savings, and tons of fun... something everyone should totally take advantage of.