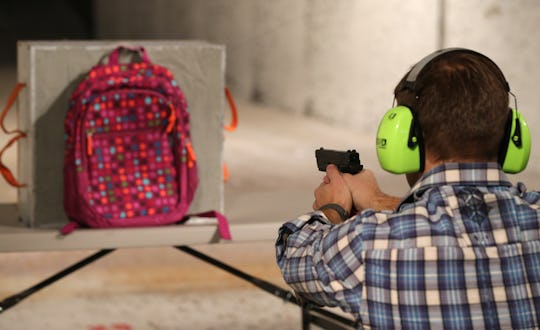 Photo by George Frey/Getty Images
Asking Your Child If They Want A Bulletproof Backpack: The Dilemma Parents Face Now
With their children about to start class, parents are finding a rather surprising item amongst the traditional back-to-school supplies sold in stores: bulletproof backpacks. "I feel it's our job to keep our kids feeling safe and loved, and we need to use whatever tools we have at our disposal," says Amber Faust, a mother who chose to purchase one. As Romper reports, parents' reactions are mixed, but sales have nevertheless increased: bulletproof backpacks are emerging as the nation's quick fix for gun violence in schools. But amid the rise in interest, gun-reform advocates warn they're not a real solution to such violence.
While recent media reports have put bulletproof backpacks back in the national spotlight, this isn't the first time their sales have spiked. Sales of bulletproof backpacks surged after a shooting at Sandy Hook Elementary School in Newtown, Conn., left 20 children and six adults dead in December 2012. At the time, Amendment II, a Utah-based company that sold a line of backpacks reinforced with carbon nanotube armor, told Mother Jones they'd seen their monthly backpack sales triple in just one week.
The demand for bulletproof backpacks jumped again in February 2018 after 17 people were killed when a gunman opened fire at Marjory Stoneman Douglas High School in Parkland, Fla., according to The New York Times. More recently, Bullet Blocker founder Joe Curran told CNBC that his company had seen sales of backpacks and inserts increase "approximately 200 percent over the past few years."
And recent back-to-back mass shootings in El Paso, Texas, and Dayton, Ohio, have reportedly renewed consumers' interest in the product. A range of companies like Guard Dog Security, TuffyPacks, and Bullet Blocker now sell bulletproof and bullet resilient backpacks online for students of all ages. But as bulletproof backpacks become available at brick-and-mortar stores like Office Max, Office Depot, and Kmart, their placement next to pencil cases, rulers, and crayons makes the threat feel more immediate to parents.
Mike says that while his 10-year-old daughter asked for an armored backpack or insert, his 7-year-old said she didn't want to discuss the topic.
And it's no wonder some parents are worried. A CNN report published earlier this year found that in the year following the Parkland School Shooting there was, on average, one shooting nearly every 12 days at K-12 schools. What's more, data from the advocacy group Everytown for Gun Safety shows there have already been at least 59 incidents of gunfire on school grounds this year alone, resulting in at least 10 deaths and 39 injuries. To date, there are no reports of bulletproof backpacks saving anyone in a shooting.
For some parents, the decision to purchase a bulletproof backpack comes from having already experienced the fear and anxiety of hearing your child's school has been put on lockdown.
Faust, who is from South Carolina, tells Romper that a prank spurring a lockdown ultimately led her to obtain both a backpack and bulletproof backpack insert for her now-middle-school-age daughter. In fact, Faust has partnered with two brands that sell bulletproof products as an influencer on Instagram.
Others, like Mike, a father from Georgia who asked not to use his surname, have brought their children into the conversation, allowing them to decide if they want to carry a bulletproof backpack or insert.
"I can understand the shock and outrage that surrounds this topic," Mike tells Romper, adding that his children should not have to worry about being shot in school. "But learning about a danger and preparing for it are not the same as succumbing to it. We can respond selectively and rationally to the dangers of school massacres."
Mike says that while his 10-year-old daughter asked for an armored backpack or insert, his 7-year-old said she didn't want to discuss the topic. "I'm proud that my oldest daughter considered the proposal. It is a demonstration of her intellectual bravery," he says. "Of course this doesn't mean that my youngest daughter's response was at all shameful or cowardly. This is a dreadful topic. Why do you want a 7-year-old to have to worry about bulletproof bookbags? She should be focused on which My Little Pony is her favorite."
Precaution Or Exploitative Profit?
Although many of the brands producing bulletproof products have marketed them as a way for parents to take an extra precaution, gun-control advocates have accused them of exploiting parents' desire to keep their kids safe.
"These companies that are making these products are really capitalizing on the fears of American parents," Moms Demand Action founder Shannon Watts tells Romper about the recent trend of marketing of bulletproof backpacks as a back-to-school supply.
Backpacks sold by Guard Dog and Bullet Blocker are not marketed to protect against AR-15 rifles, which are reported to be one of the most commonly used firearms in active-shooter situations.
And some parents agree. Illinois mom Julie Lindsey, whose 12-year-old daughter is entering the seventh grade this year, tells Romper she was "horrified" when she first heard bulletproof backpacks were being made and marketed for school-age children. "It wasn't really the backpacks themselves, but the fact that we now have such a culture of fear that bulletproof backpacks are now a viable product," she says. "I was also skeptical about the concept and angry that people are profiting off parents' fear."
Lindsey says she doesn't begrudge parents who do buy bulletproof backpacks or inserts for their child, but is not planning on purchasing one. "Statistically, the chance of a school shooting is low, the chance my daughter is wearing her backpack is lower, and the chance a shooter would hit that backpack is even lower still," she explains.
It's Unclear How Effective Bulletproof Backpacks Actually Are
Though there is a market for bulletproof backpacks, Watts warns there's no clear evidence of their effectiveness. "I understand parents' desperation," Watts, who is herself a mother of five, tells Romper. "They're afraid. There is not a parent in this country right now who isn't terrified that their child will be next. But there's also no data that shows that bulletproof backpacks will in any way protect their children in any kind of active-shooter situation."
Law-enforcement officials have also cautioned against trusting a bulletproof backpack to withstand gunfire from the firearms most often used in school shootings.
"These backpacks would not, under any circumstances stand up against the assault rifles so often used in school shootings," former New York Police Department commissioner William Bratton told CNBC. Backpacks sold by Guard Dog and Bullet Blocker are not marketed to protect against AR-15 rifles, which are reported to be one of the most commonly used firearms in active-shooter situations, per CNBC.
Additionally, some parents and school districts say children aren't allowed to keep their backpacks with them throughout the entire day, further limiting their effectiveness. "In our school district students do not walk around with their bookbags so they would not be available if something unfortunate were to occur," Gabriel Olivera, the director of safety and security at Central Dauphin School District in Pennsylvania, tells Romper.
If Not A Bulletproof Backpack, What Can Be Done To Keep Kids Safe?
Some parents have argued that the recent demand for bulletproof backpacks is proof of legislators' failure to adequately address the country's issue with gun violence.
"Marketing products to adjust to a culture of gun violence rather than actually targeting gun violence doesn't seem like the right solution to me," Tara Donnelly Gottlieb, an Everytown Survivor Fellow and mother of two whose parents were killed in a shooting in 2005, tells Romper. "We owe our children a whole lot more than giving them bulletproof book bags. We owe our children safe classrooms, a safe environment, and getting them bulletproof book bags is not accomplishing that."
Donnelly Gottlieb tells Romper she's unlikely to purchase a bulletproof backpack. "We do so much as parents to keep our kids safe," she says. "And in the case of my daughter, she's 3 and there are still so many childproof products in the house and yet sending her to school in backpack armor, that's not something I could ever wrap my head around."
Rather, Donnelly Gottlieb worries about the message children receive when sent off to school with a bulletproof backpack. "I think that we're sending a message to children that this is normal," she says. "One hundred percent of gun violence deaths are preventable and I think we need to come together and work harder to stop gun violence throughout the country but especially in schools and where our children are, as opposed to … normalizing it and teaching them that this is just a way of life."
Mike, however, disagrees. "What's been normalizing these horrific acts is the disproportionate attention paid to them," he tells Romper. "As a society, we are suffering a Werther effect for mass murder." Named for the novel The Sorrows of Young Werther, the Werther effect refers to an uptick in copycat or emulation events that can follow a widely publicized event like a suicide or mass shooting.
Despite the rise in interest, a spokesperson for the Department of Education tells Romper the agency does not endorse products and wouldn't comment on bulletproof backpacks. Meanwhile, the National Rifle Association (NRA) did not return Romper's request for comment.
Rather than adding a bulletproof backpack to the list of back-to-school supplies, Watts urges parents to take action and reach out to their lawmakers for a more effective solution. "We need to look at real solutions for keeping guns out of the hands of dangerous people and that requires all of us to get off the sidelines and to demand our lawmakers take action," she tells Romper. "That is a solution to gun violence."
Moms Demand Action has a text line that connects users to their senators, and provides talking points on the efficacy of background checks and red-flag laws. Watts recommends parents spend a few moments getting educated about where their current elected officials and preferred candidates stand on the issue of gun violence prevention through platforms such as Gun Sense Voter.
"We don't live single-issue lives but I am certainly a single-issue voter until I know my children will be safe in their schools," Watts says, "and this is something our lawmakers have the power to stop."
Lead image: Chief Operating Officer for Amendment II, Rich Brand, shoots a child's backpack with their Rynohide CNT Shield. In 2012, their orders for the bulletproof shield went up dramatically following the Sandy Hook Elementary School shooting. (Photo by George Frey/Getty Images)