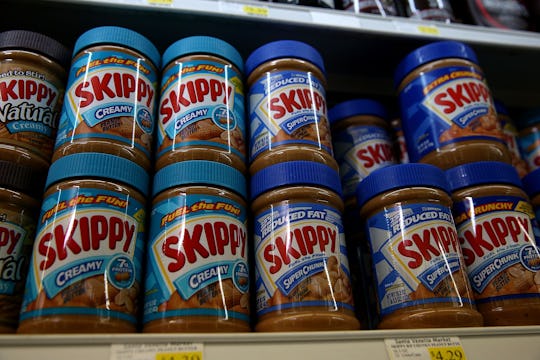 Justin Sullivan/Getty Images News/Getty Images
The Latest Bullying Trend Is Terrifying
There is absolutely nothing funny about bullying. An age-old form of abuse of power, bullying tactics have certainly shifted over the years. And while the internet has given way to a new, scary form of anonymous cyber bullying, students today are also using food allergies to target their victims, and it's seriously scary. According to The Washington Post, the latest trend in bullying is all about peanuts, and food allergies in general.
As the National Bullying Prevention Center states, more than 20 percent of students reported being bullied at some point during their school careers, a frighteningly high number. In fact, a 2010 study that delved into the phenomenon of food allergy bullying concluded that "Bullying, teasing, and harassment of children with a food allergy seems to be common, frequent, and repetitive." And unfortunately, it doesn't seem to be getting any better.
The study, which relied on surveys from over 350 patients with food allergies, mostly children, found that over 24 percent of respondents reported being bullied, harassed, or made fun of because of their food allergy. And while this particular study couldn't necessarily find ways to characterize or qualify the instances of bullying that took place among participants, the fact remains that children with food allergies are constantly in danger of serious injury, especially while they're at school and away from home.
But, unfortunately, it isn't just younger children who are at risk for food allergy bullying. As The Washington Post reports, "a Michigan college student had his face smeared with peanut butter, allegedly in a fraternity hazing that left him with swollen eyes." Children, teenagers, and adults are all more likely to be bullied if they have a food allergy, oftentimes with their perpartators unaware of just how dangerous their attacks can be.
Sandra Beasley, who wrote the food-allergy memoir "Don't Kill the Birthday Girl," told The Washington Post, that bullies who use food allergies as a way to hurt others, "may not recognize the physical consequence of what they're doing." Because reactions to common food allergies such as peanuts, shell fish, milk, and wheat, can range from minor impact to serious hospitalization, the bullies, "probably literally cannot measure" the ramifications of what they're doing, Beasley stressed.
When younger children are involved though, food allergy bullying can become deadly very quickly. Students who know of a peer that has a peanut allergy may have just been told that the peer will "get sick" if they eat peanuts, and find it funny to sneak some into their food, as a joke. That was an instance a parent anonymously reported to The Washington Post, noting that, luckily, their child's friends quickly spotted the peanut-infested food and threw it away.
But when something as common as a peanut butter sandwich could mean fatal reactions for some students, proper education about food allergies becomes necessary. As The Washington Post advised readers,
Experts believe that bullying based on food allergies might be tempered by promoting awareness of the health consequences of those allergies and the social consequences of all types of bullying.
So, while food allergy bullying might be on the rise, there are ways to slow it down. Talk to your kids, and make sure everyone at their school is aware of the actual side effects of their food allergies, including other children. Bullying has never been okay, but when kids discover how easy it can be to seriously hurt others, something needs to be done.