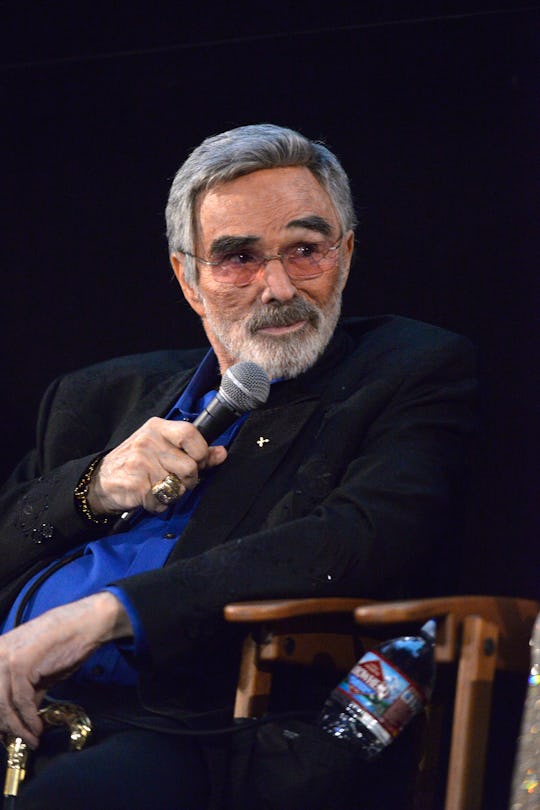 Michael Tullberg/Getty Images Entertainment/Getty Images
These Burt Reynolds Quotes Prove He Always Kept It Very Real
After a decades long career in film, CNN reported on Thursday that Burt Reynolds, known best from films like "Smokey and the Bandit" and "Boogie Nights," passed away at age 82. His career was defined by his beginnings in old Hollywood, and he was widely regarded as an icon by not only fans, but also fellow actors. In memoriam, here are Burt Reynolds' 8 realest quotes from over 5 decades in Hollywood.
In the aftermath of Reynolds' passing, many celebrities have taken to their social media platforms to express what Reynolds meant to them. This morning on Twitter, USA Today reported Arnold Schwarzenegger shared: "Burt Reynolds was one of my heroes. He was a trailblazer. He showed the way to transition from being an athlete to being the highest paid actor, and he always inspired me. He also had a great sense of humor - check out his Tonight Show clips. My thoughts are with his family."
Despite his legacy, earlier this year, Reynolds made headlines multiple times for giving odd interviews and making "unsettling" comments about former co-star Sally Fields, Country Living reported. Regardless of the ups and downs, Reynolds is still an icon in Hollywood history, and has given many interesting interviews over the decades. Here, some of his best moments.
1. "It's God's Fault"
In an interview with GQ, Reynolds explained that he believes a higher power controls our lives. "It's God's fault," he said. "We just do what we are programmed to do. But if I knew why, life would be easier. I'm not sure why I was an asshole. I just hope I can fix some of it."
2. "You Are, At That Point, Not In Love With Logic. You Are In Love With Beauty"
In the same interview, Reynolds explained why it is that he thinks some people don't leave bad relationships even though their gut instinct tells them to. He explained:
Because it is the most logical voice. And you are, at that point, not in love with logic. You are in love with beauty. You are blinded. We forget the ocean is beautiful and deep and vast. But it can change on you in a flash and drown you. I mean, I knew that I was making a mistake [with ex-wife Loni Anderson] the day I walked down the aisle at the church. I'll never forget: I looked at my mother in the pew, and she was just shaking her head.
3. "I Don't Have Any Regrets Left"
In an interview with The New York Times, Reynolds opened up about a 2015 interview with Vanity Fair in which he said that he had regrets about life. He amended his comments to clear up any confusion: he regrets nothing.
4. "I've Lost More Money Than Is Possible Because I Just Haven't Watched It"
When he did the aforementioned interview with Vanity Fair in 2015, he was in the process of selling a lot of his belongings. He said: "I've lost more money than is possible because I just haven't watched it. I've still done well in terms of owning property and things like that. But I haven't been somebody who's been smart about his money. There are a couple of actors who are quite brilliant with the way they've handled their money. But they're not very good actors."
5. "My Movies Were The Kind They Show In Prisons & Airplanes"
Despite all of his success, Reynolds was eternally down-to-earth and humble about his work. Brainyquote.com reported he said: "My movies were the kind they show in prisons and airplanes, because nobody can leave."
6. "If You Hold On To Things Long Enough, They Get Back Into Style. Like Me"
Azquotes.com reported Reynolds would poke fun at the longevity of his career, understanding that like anything else, trends come and go. "If you hold onto things long enough, they get back into style," he reportedly said in his memoir, My Life. "Like me."
7. "You Are Responsible For Every Mistake You Made"
Esquire republished a 2005 interview with Reynolds in which he described the frustrations of going to therapy and finding that everyone blamed someone else for their problems. "I once went to group therapy," he said. "Everyone there blamed someone else—their mother, their father, their agent. When it got to me, I said, "You're all full of shit. You're gonna be here forever. Look in the mirror. You are responsible for every mistake you made."
8. "The Greatest Actors In The World Are The People Around You When You're At The Top Of The Mountain"
In the same interview with Esquire, Reynolds opened up about how he distrusts many people's intentions. "Your bullshit detector gets better with time," he said. "Bankruptcy? It's not pleasant. There are some people who look at you like you've got leprosy and their bank account might drop if they touch you."