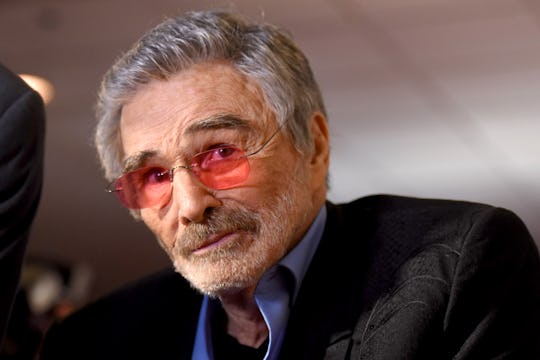 Noam Galai/Getty Images Entertainment/Getty Images
Burt Reynolds Has Died At 82, Leaving Behind An Iconic & Memorable Legacy
It's been a year with some big losses in entertainment, and on Thursday morning another icon passed. According to The Hollywood Reporter, actor Burt Reynolds has died at 82 years old. The jovial star of hits like Smokey and the Bandit and The Longest Yard reportedly went into cardiac arrest at a Florida hospital where he was surrounded by his family.
Reynolds was the top earning actor in film for a five-year period in the 1970s and early 80s, according to The Hollywood Reporter, a feat unrivaled since Bing Crosby. In 1978, audiences could even choose from four of his films playing in theaters at the same time. But the actor was no flash-in-the pan success; he started acting in television in the late 1950s, according to Entertainment Weekly, and was well-known for his role as Quint in Gunsmoke. It was his turn as Lewis Medlock in 1972's Deliverance that brought him acclaim on the big screen and kicked off his long film career, as noted by Variety.
One of Hollywood's hardest-working actors, Reynolds leaves his fans with nearly 200 movies, according to Us Weekly, and was still filming even now. His work in Once Upon a Time In Hollywood is expected to release in 2019. He was beloved as the star of fun fare like Smokey and the Bandit and Cannonball Run, as well as romances like The Best Little Whorehouse in Texas and The Man Who Loved Women. But critical appreciation eluded him, according to The Hollywood Reporter, until his role in 1997's Boogie Nights, which finally earned him a Golden Globe award.
Reynolds was considered a sex symbol in the 1970s, due in part to an iconic centerfold image on a bearskin rug that was shot for Cosmopolitan, according to CNN. The photo has since become a touchstone for humor, and was most famously recreated for comedic effect by George Constanza on Seinfeld. But at the time it was a smash success, selling over 1.5 million copies of the magazine, according to The Hollywood Reporter. But the outlet reported that Reynolds later said he regretted the photo shoot, believing it pulled attention away from Deliverance and possibly cost the film an Oscar. It's been called one of the greatest publicity stunts of all time, but it was one of the "biggest mistakes I've ever made," he wrote in his memoir But Enough About Me, according to USA Today.
Reynolds married twice, first to actress Judy Carne and then to Loni Anderson from 1988 to 1993, according to Us Weekly. But it was his relationship with Sally Field in the late 1970s and early 80s that he apparently never got over, according to the magazine. In a 2015 interview with Vanity Fair, he called the actress the love of his life. "I miss her terribly," he told the magazine. "Even now, it's hard on me. I don't know why I was so stupid. Men are like that, you know. You find the perfect person, and then you do everything you can to screw it up."
His divorce from Anderson combined with some bad investments reportedly put Reynolds into Chapter 11 bankruptcy in 1996, according to The Hollywood Reporter. Rumors of financial problems have plagued him since, further fueled by the auction of some of his prized possessions in 2014, as reported by Vanity Fair. He sold one of his three Golden Globe awards for $21,250, his People's Choice Award for his role in the TV series Evening Shade for $10,625, and the Trans Am from Smokey and the Bandit for $450,000, the magazine reported. But he told Vanity Fair that the rumors were unfounded and he was just cleaning house.
While the world has long enjoyed watching the impressive body of iconic work Reynolds left behind, fans are undoubtedly sending their thoughts to his family and friends as they walk through this tough loss.