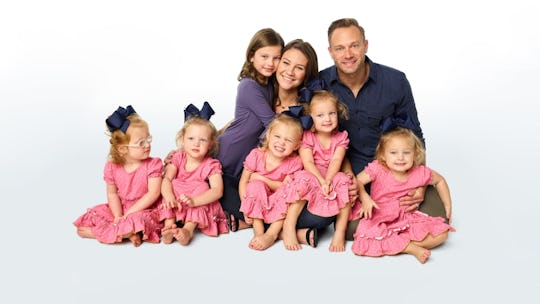 Courtesy of TLC
The Busby Quints' Birth Order Is Super Telling To Their Personalities
The Busby quints are super adorable — and this is something that everyone who watches their TLC show, OutDaughtered is well aware of. But some fans who watch the show might not be aware of what quint is the oldest of her siblings. Therefore, the Busby quints' birth order is a great way of getting to know each quint and their super powerful personalities.
When the Busby quints were born on April 15, 2015 to parents, Danielle and Adam Busby, they made history, according to NBC News. They were the first all-female quintuplets to be born in the United States and the first all-girl quints to be born anywhere in the world since 1969. At the time, the girls were born at 28 weeks gestation, according to NBC News, meaning they were born 14 weeks early through Cesarean section.
Therefore, the girls had to spend their first few months of life in the NICU, according to ABC News, with the last and final quint coming home in July 2015 — three months after her birth.
Now that fans are familiar with the quints' birth story, then they might want to know their birth order. The quints' birth order is as follows, from oldest to youngest, according to TLC: Ava, Olivia, Hazel, Riley, and Parker.
Of course, it should be worth mentioning that the quints also have an older sister, 7-year-old Blayke Louise, according to Country Living, who takes precedent for being the oldest out of them all.
First & Second Born: Twins Ava Lane & Olivia Marie
Ava and Olivia are the first two of the quintuplets to be born, according to TLC, and also just so happen to be the only identical twins out of the sisters — so it might be a little hard to tell them apart. Both Ava and Olivia are "so similar but so different," according to a blog post written by Danielle, and pretty much inseparable. However, Ava tends to be "very serious" most of the time, while Olivia "likes to have an audience" and make people laugh, according to TLC.
Third Born: Hazel Grace
Sandwiched in the middle of her sisters is Hazel, who was born third out of the five quints. Hazel is super memorable — she's the only Busby quint with red hair and blue eyes which makes her stand out from her sisters, according to It's A Buzz World. Hazel is the only quint who wears glasses, because she was diagnosed with congenital Nystagmus, or involuntary eye fluttering at a young age.
Although she might look different from her siblings, this doesn't stop her. Hazel is the most independent out of her siblings, according to Danielle, and is super smart.
Fourth Born: Riley Paige
Riley is the fourth to be born out of her siblings, according to TLC, and has "always been the rowdy one." Last year, during an episode of OutDaughtered, Danielle perfectly explained Riley's personality. Danielle said, according to People:
Though Riley is usually the naughty one, she really has a sweet, cuddly side to her. She wants to do good, but her personality kind of gets in the way.
Fifth & Last Born; Parker Kate
Parker is the proclaimed "Daddy's Girl" of the group, according to Adam's Instagram account. As the last quint born, Parker is "sweet, shy, and innocent" but is also the "leader of the group," according to Danielle. Parker is also the most observant out of her siblings, as well as the most quiet, according to TLC — which probably makes her the most dynamic sibling of them all.
It is important to note that all of the quints were born within four minutes, according to TLC — therefore, Ava doesn't have the biggest bragging rights over Parker.
No matter their birth order, the Busby quints have personalities which allow them to stand out amongst each other. But, knowing the birth order of each quint does help when it comes to remembering each of them.
This article was originally published on