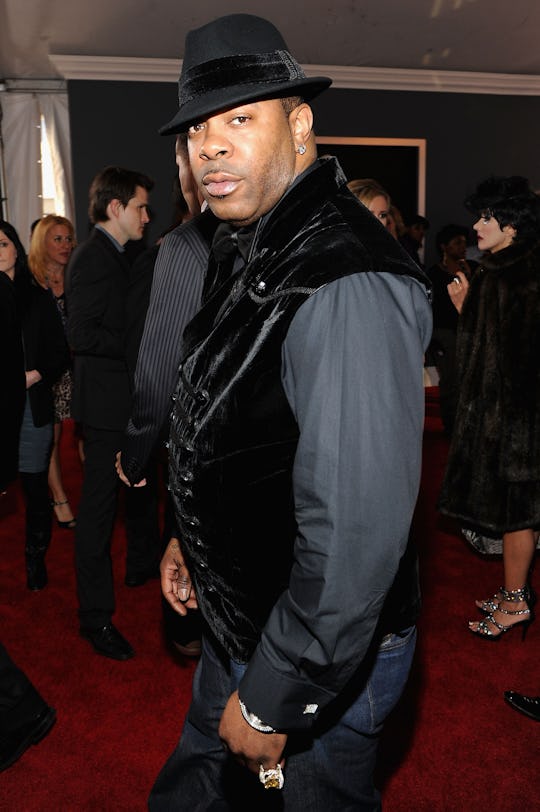 Larry Busacca/Getty Images Entertainment/Getty Images
Busta Rhymes Called Trump Out At The Grammys
At the Grammys, rap legends A Tribe Called Quest used their performance and platform to make one hell of a statement. Busta Rhymes' Trump statement at the 2017 Grammys was exactly what we need to hear right now. This was not an innuendo, or cheeky, or in anyway designed to encourage different interpretations. Busta made the strongest political statement of the night and we should all be paying attention.
While Katy Perry encouraged everyone to persist and focus on unity in her performance, which was definitely political, A Tribe Called Quest got much, much, more real and much more explicit. Things started off fun, and then Busta Rhymes said he wasn't too happy with our political climate. He then specifically called out "President Agent Orange." There's not a lot of room for interpretation here. The lyrics of the song included saying "we don't like you," and specifically mentioning all of the minority groups that Trump has told to "Get out!" But that wasn't even the end of it. Dancers on stage were dressed suspiciously like Nazi soldiers, and then a line of marginalized people were brought onto the stage with the icons of hip hop music. With the final cry of "Resist!" and fists in the air, I doubt there was a single person in the room who didn't immediately galvanized into action.
Hip hop and music more generally has always been an outlet for artists to speak their mind, and A Tribe Called Quest has always taken advantage of their platform to say things that need to be said. This was not a subtle performance. This was about calling on people to take action, and do what needs to be done.
It is unclear whether President Agent Orange himself, Donald J. Trump, has ever actually heard of Busta Rhymes or A Tribe Called Quest. Nevertheless, I feel fairly certain that at some point tonight or tomorrow, Trump will announce to the Twitterverse that he's heard they are very overrated and a failing group and why are they even talking about him. Because Trump is predictable in that way.
Some people may say that celebrities have no business getting political in their performances. They're here to entertain, not to teach us things. That may be true, but they have the right to speak their minds, and a platform and influence to reach people. Used wisely, this is a powerful tool. And A Tribe Called Quest definitely used it wisely.