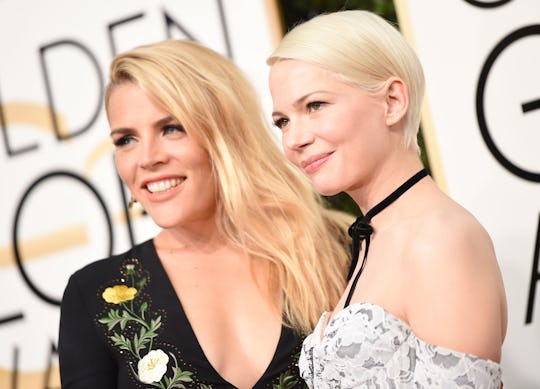 VALERIE MACON/AFP/Getty Images
Busy Philipps & Michelle Williams Are BFF Goals
At any awards show, who one takes as a date can sometimes be as important as what one wears, and no one (with the possible exception of the Stranger Things kids) makes a more adorable pairing than a certain two former Dawson's Creek co-stars. Busy Philipps was Michelle Williams' date to the 2017 Golden Globes, further proving that these two are friendship goals for everyone.
Philipps and Williams first met when they both worked on the set of Dawson's Creek, and have been best friends ever since. Apparently they take the "F" in BFF extremely seriously, and it could not be more adorable. Rather than take a dude or go solo, Williams, who is nominated for the critically acclaimed film Manchester by the Sea, decided to take her best girlfriend as her date. Which is pretty much exactly what I would do.
The two of them look adorable together, and it's genuinely awesome to see women support each other as friends so hard and for so long in Hollywood. Although everyone is focused on celebrity marriages and Twitter feuds, I'd like to take a minute to focus on this beautiful example of female friendship that really lasts. These two are the best.
And this is hardly the first time they have gone as each other's dates to red carpet events or award shows. In fact, Williams also took Philipps as her date to the premiere of Manchester by the Sea, where they were just as adorable, as well as to the Critics Choice Awards. Basically, these two represent everything we've ever wanted in a best friend.
At the Manchester by the Sea premiere, Williams told People magazine, "I'm here with my best friend." She then added, "I'm so in love with her. She's proof that the love of your life does not have to be a man! That's the love of my life right there." So much yes to all of that. Sometimes the love of your life doesn't happen to be a romantic partner. Sometimes it's your kid or your parent and sometimes it's just your best friend that you've known forever and that has supported you through thick and thin forever.
Even if Williams was romantically linked at the moment, I have a feeling that this guy would still take a back seat to Philipps. She's only got room for one plus one, and that happens to be her BFF. I love it.