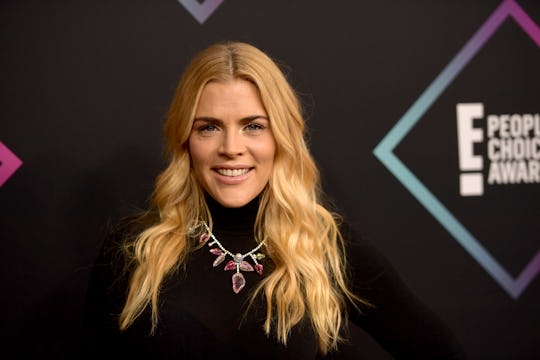 Matt Winkelmeyer/Getty Images Entertainment/Getty Images
Busy Philipps Way Of Explaining Natural Disasters To Her Daughter Is Brilliant
Children are the most curious people — they want to know everything about everything and expect their parents to have every single answer. So, when kids become curious about why natural disasters are happening, it can be hard for parents to come up with the perfect answers to these questions. But perhaps parents can find solace in Busy Philipps opening up about natural disasters to her daughter — because she has been there, too.
Two areas in the state of California have been devastated from two active fires — the Camp Fire in Northern California and the Woolsey Fire in Southern California. The Woolsey Fire has been 88 percent contained as of Sunday, according to CBS News, but the impacts of the fire have reached people living beyond the path of destruction. In addition to destroying homes and lighting up the skyline, smoke from the Woolsey Fire has also produced some of the "dirtiest air in the world," according to CBS News.
Because of the major impact from the fire, it makes sense that celebrities and their families living in Los Angeles and surrounding areas would be afraid of the fire, too. In an interview with Us Weekly, Philipps, an actress, told the magazine that she was struggling with finding the right words to describe the fire.
"It's difficult and Birdie, my 10-year-old, is a critical thinker and she is very aware and an intense child," Philips said. Therefore, she is aware that the fires are happening and expecting Philipps to have an answer about the fires.
Parents can take a cue from Philipps, who told Us Weekly that her key to explaining the fire to her daughter was to make sure she spoke to her in an age appropriate manner without worrying her anymore than she needs to. Philipps told Us Weekly:
Especially with the fires, we talked today about climate change and we talked about what that means and how we can make better steps in our family to do our part to help climate change. Not everything is a learning moment, but some things are with kids.
Philipps is right — there are some lessons that parents should keep for another day when their kids are ready (ahem, the "sex talk"). But climate change is an incredibly topical subject — and once kids know about climate change and the impacts it has on them and the world, the more conscious they will be to make a change.
Kids are aware that climate change is something that they should be scared of, according to The Atlantic, but there is a way to talk to your kids about climate change (and forest fires) without them having them scared for their lives. There are plenty of videos online for parents to watch with their kids about this topic, courtesy of National Geographic, that explains it in kid friendly terms. But if parents want to teach their kids in their own terms, NASA has a great guide for parents to answer their kids hard hitting questions about climate change.
But Philipps is right — when it comes down to it, parents should provide suggestions to their kids about how they can make a small change in their home to ensure that they're doing their part in some way or another.
But if people don't like Philipps' approach to these subject, they can also take a note out of Jennifer Garner's book. Earlier this week, Garner told Us Weekly that she emphasizes safety over talking about climate change.
"You just tell them they're safe and that there's a lot of helpers in this world and you gaze towards the light," Garner said.
Whether parents approach the subject bluntly like Philipps, or air on the side of caution, like Garner, parents can't go wrong in using these California wildfires as a new lesson to teach their kids.