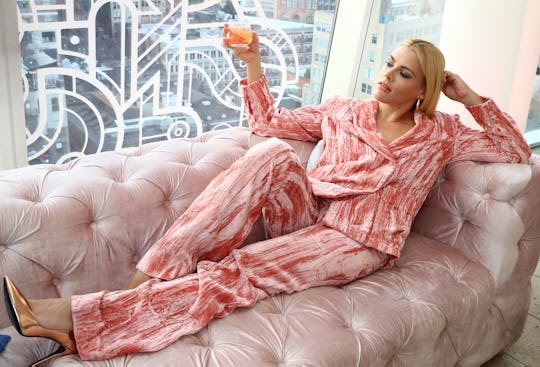 Astrid Stawiarz/Getty Images Entertainment/Getty Images
Busy Philipps Shared An Important PSA On Banning Mother's Day Brunch So You Don't Have To
Mother's Day is supposed to be the day that is all about putting everything aside to show all moms how much the people in their lives appreciate them. This typically involves buying those moms flowers and taking them out to a nice meal as a token of appreciation. But let's be real, this isn't the thing that all mothers want — and mom of two, actress Busy Philipps, knows this to be true. In honor of Mother's Day (which is next week, by the way) and all of the moms who know what they would really want for their day, Busy Philipps' PSA on banning Mother's Day brunch is a little too real.
As previously stated, Philipps is the mom of two young daughters, according to People — 4-year-old Cricket Pearl and 9-year-old Birdie Leigh. And even though they're pretty young, she is teaching them at a young age how to treat their mother for Mother's Day — by telling them to "ban" the boring Mother's Day brunch and instead, let her rest in bed all day. Because really, what mom waits all year for a watered down fruit plate and a slice of quiche at a restaurant when every other mother knows that they would rather be spending their morning (or day) in bed, eating slightly burnt pancakes made for them by their children?
But Philipps is one of the first people (OK, slight exaggeration) to actually admit this — which is why all moms (but most importantly, their children) should see her public service announcement on Instagram about this subject.
Mother's Day brunch, according to Philipps' Instagram video, is an awkward experience for her — mainly because she is the one who is organizing it, for herself (since her daughters are too young to do so) and she feels weird that people are staring at her, on Mother's Day, for being a mom. So what are Philipps' hopes and dreams for this Mother's Day? "I just want to be left alone until like, 2 p.m. with just me and a bag of cinnamon gummy bears," Philipps said in her PSA. Amen.
Philipps deserves a break of this caliber on Mother's Day — if anyone follows her Instagram then they know that she is one dedicated mother. For example, after a recent family trip to Hawaii, Philipps accidentally left two of Birdie's teddy bears behind at the hotel, according to People. Since Philipps and her family lives in California, Philipps feared that she (and Birdie) would never see the bears again. That is, until a day later, someone at the hotel found one of the bears, according to People, allowing Philipps to reunite her Birdie with her beloved stuffed animal.
And this isn't the first time that Philipps has shown such dedication for her daughters. Last Fourth of July, according to TODAY, Philipps jumped into a swimming pool (fully clothed, mind you) to save her youngest daughter, Cricket, from going over the edge of the infinity pool and risk the chance of falling quite a few feet.
Suffice to say, if there is anyone who deserves to decide what she wants to do for Mother's Day, it's Philipps — even if that means starting a national campaign (#banthebrunch) to go along with her decision to stay in bed all day.
Philipps isn't wrong in wanting to stay in bed all day and really, all moms should want to do the same. Data collected in 2017 by researchers at Georgia Southern University showed that women who had kids got six or fewer hours of sleep a night (to compare this, the Centers for Disease Control and Prevention recommends that the average adult has seven hours of sleep each night), according to Shape. Whereas other factors did have an impact the amount of sleep that women tend to receive (like their age, marital status, and stress levels), the data showed that having kids was the only "trend significantly associated with insufficient sleep."
Because of this, moms really should join in on Philipps and her valiant effort ahead of this Mother's Day. They should tell their kids (or partner) to cancel those brunch reservations, save the fruit plate for another family, and give them that much needed sleep by staying in bed all day. That might be the best present their kids will ever give them.