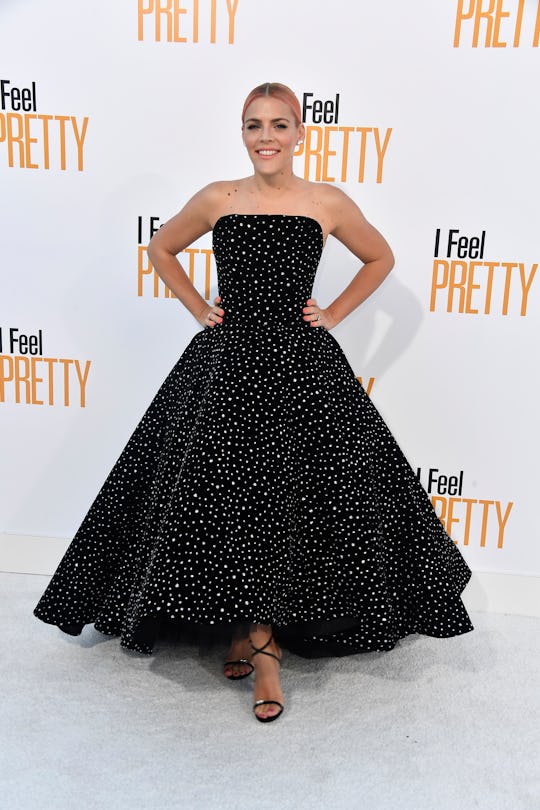 Frazer Harrison/Getty Images Entertainment/Getty Images
This Is How Busy Phillips Is Using Instagram To Support Teachers
You don't have to be a parent to understand that teachers have an incredibly important and difficult job, and usually have to do that job in much-less-than-ideal conditions while earning not-nearly-enough money. One issue far too many teachers face is simply not having the supplies they need in the classroom — which often translates into them having to purchase items out of their own pockets. So in support of the #10FeaturedTeachers campaign originally launched by Grizzly Bear musician Ed Droste, actress Busy Phillips is featuring teachers on her Instagram account for 10 days in an effort to help them get the school supplies they're lacking, and though it's a simple effort it could have a really profound impact.
Phillips announced her involvement in the campaign in an Instagram post Sunday, with a video clip in which she invited anyone who is "a teacher in an underserved school" to DM her with their info, along with an Amazon wish list for classroom supplies. From there, Phillips said she would pick 10 teachers to feature on her feed with links to their wish list, and encouraged her followers to chip in to support the effort however and in whatever way they could.
Droste — whom Phillips called her "dear friend" — began challenging Instagrammers to use their platforms to help teachers after a teacher friend of his explained that many are often left to fill the gaps in classroom funding by purchasing their own school supplies. That's a reality that Droste said "really says a lot about this country," but he also argued that it "also just seems insane considering how teaching is one of the hardest, most underpaid jobs in the nation."
On Sunday, Droste completed his own #10FeaturedTeachers challenge, posting his tenth and final teacher on his account for the last day. But in the post, he made sure to keep the momentum going by nominating six others to take the challenge themselves, and Phillips was totally down. On Monday, the actress featured her first of 10 teachers: Rosaleen Zitawi, an eighth-grade middle school math teacher from North Carolina.
In the post, Zitawi explained that she works at a diverse school with over 1,300 students, but said it's "not funded adequately to serve as many students as [they] have." As a result, Zitawi said that she "constantly [has] to pay out of pocket for basic classroom essentials and student needs," and, well, needless to say, she could use a little help.
Zitawi's wish list included lots of standard classroom items — paper, pencils, markers, scissors, glue sticks — but also just some basic general necessities, like tissues, a fan, and hand sanitizer. And judging from the other wish lists shared by Droste, her requests seem so heartbreakingly common.
Los Angeles-based, third-grade teacher Christine Ronan's wish list was comprised largely of books, but she also asked for things like printer ink and disinfecting wipes. Fourth-grade reading teacher Erica Tully also requested lots of books, but also erasers, index cards, and stools for her students to sit on. And in addition to books (seriously, teachers really need books!), Michigan special education teacher Bre Young asked for items like floor pillows, a white board eraser, bottled water, and lollipops.
The point of the challenge, it seems, is obviously to help the individuals teachers chosen, but it also highlights the fact that it is not at all a uncommon problem for teachers to not have enough supplies for their classrooms. In fact, according to CNN, a survey published in May by the National Center for Education Statistics found that a whopping 94 percent of teachers "have spent some of their own money on school supplies without reimbursement," with public school teachers spending an average of $479 of their own money on school supplies between 2014 and 2016.
But elementary school teachers were also hit harder than secondary teachers: the study found that 95 percent of elementary school teachers spent their own money for school supplies, and that they averaged about $526 over two years.
Teaching children — especially young children — is such a huge responsibility, and so many teachers often go above and beyond to meet their students' needs. Yet, expecting teachers to do their jobs properly when they're also forced to shell out for things like tissues and pencils is a pretty big burden to place on their shoulders.
At the very least, Phillips, Droste, and all the other individuals who will go on to do take the #10FeaturedTeachers challenge, are helping some of them get the items they need for their classrooms. But hopefully, the challenge is also raising awareness about the fact that, in most cases, teachers deserve way more support than they are actually receiving.