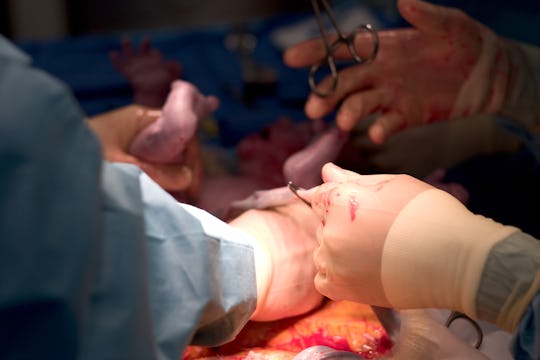 C-Section Rates Are Highest On The East Coast & In One State In Particular, New Study Finds
Pregnancy can be an empowering time for a woman as she watches her body complete the amazing task of building another human, but few women get to choose how they give birth. According to data released Wednesday by consumer digital health care company Amino, C-sections are far more common in some states than others. The research, which examined insurance claims from 4.4 million deliveries from 2010 to 2015, revealed that, one average, 37.1 percent of US women give birth via C-section. These findings support others research which shows that more women are delivering via C-section than ever before and, as the American College of Obstetricians and Gynecologists points out, only a small percentage are elective C-sections. So what affects a woman's chances of having a C-section?
Well, to start, certain medical conditions that may contribute to a women have a C-section over a vaginal delivery. Excluding previous C-section delivery, which accounts for 91.1 percent of Cesareans, Amino notes that the most common medical conditions associated with this type of delivery include having a malpositioned baby, fibroids, and giving birth to more than one child. But there may be another factor that contributes to your chances of having a C-section — location.
According to Amino's findings, C-sections are more common — and, in some cases, happen at higher-than-average rates — in certain areas across the United States. While Amino points out that a woman's ethnicity, race, culture, and socioeconomic status also might play a part in whether or not she will have a C-section, the data indicate that there are some states in which you are much more likely to have one than others. Here are the 10 states with the highest C-section rates in the U.S. — and the 10 with the lowest: