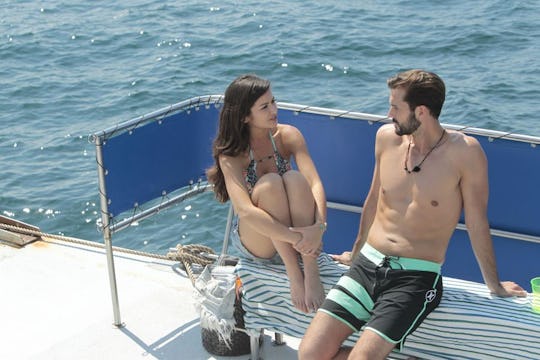 ABC/Rick Rowell
Caila Accepts Brett's Date On 'Bachelor In Paradise', & Jared Is Visibly Upset
Oh, Jared. How the mighty have fallen (not that he was that mighty to begin with). On Monday night's episode of Bachelor in Paradise, we saw how unrequited love (okay, lust) can shift. Ashley I. came to Paradise for Jared, but he had his eyes set for Caila. This is Paradise, though, so things became even more complicated: Brett came along, and asked Caila out. Caila accepted Brett's date on Bachelor in Paradise, and Jared was upset.
To know the full story, we need to backtrack a little bit. Ashley fell for Jared hard on last season of Bachelor in Paradise; while they ended up as friends, it was clear that Ashley still wanted him. So much so, in fact, that she came back to Paradise solely for him. Of course, this did not go too well. When Caila arrived in Paradise, Jared immediately took a liking to her, sending Ashley into a hysterical crying spiral (one of many).
Ashley got her own version of revenge, though. On Monday night's episode, Brett from Andi Dorfman's Bachelorette season came to Paradise, and instantly took notice of Caila. He asked her out on a booze cruise date and, after some hesistation, she accepted.
Along with some other contestants, Brett and Caila spent some time on the cruise while Jared sulked – he had Ashley to comfort him, though. Ashley saw this as her chance to win Jared over and it...did not work. Interestingly, Brett and Caila did not really hit it off on their date. Booze cruises are apparently not Caila's thing, and seeing as Brett and Caila have known each other for a minute before he asked her out, there was no way he'd know that.
After the date, then, Jared and Caila came back together – much to Ashley's distain. Luckily we did not have to listen to her sob while they made out (like at the beginning of the episode), but Ashley was clearly pissed. Jared and Caila clearly have some kind of a connection; does this mean that they will end up together, in and out of Paradise? Knowing this show, probably not, but stranger things have happened.