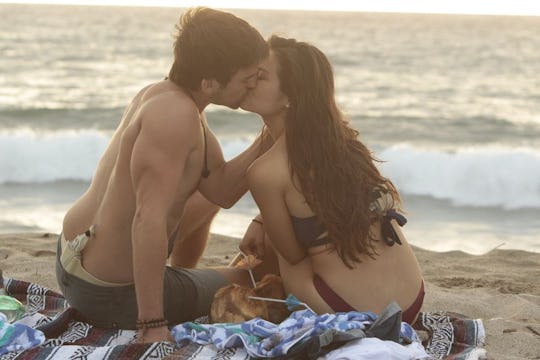 ABC/Rick Rowell
Caila Enters 'Bachelor In Paradise' & Shakes Things Up
This season of Bachelor in Paradise is in full swing – which means rogue former Bachelor and Bachelorette contestants emerging from the trees of Mexico to play the game. On Monday night's episode, Caila from Ben Higgin's Bachelor season walked on the set, looking amazing in a navy dress and extensions. She did not waste any time, and was immediately took to other players. Caila Quinn entered Bachelor in Paradise and instantly made an impact.
You may remember Caila from Ben's season. She finished as second runner-up and was actually poised to be the next Bachelorette – but JoJo took her spot instead. The producers passed on Caila because they believed JoJo had a better story: "It was nothing against Caila, but JoJo's storyline was just so compelling," a source said. T"After seeing how she fell in love with Ben and then had her heart broken, there was no doubt that everyone's going to be rooting for her as Bachelorette."
Thankfully, Caila was super supportive of JoJo and her journey. And anyway, now Caila ended up on Bachelor in Paradise, so we all know the real winner here (probably neither of them). When she arrived in Paradise with a date card in her hand, she soon began talking to Nick and Jared. Seeing as Nick is destined to be alone (kidding), he went for Jared – which pissed off Emily, one of the twins.
Emily wasn't pissed just because she's bitter (although she definitely gives off those vibes) – it's because she and Jared were dating, and Caila stole him away for more than a second. Jared actually asked for Emily's blessing to go on a date with her, which was pretty sweet – and Emily said yes, which was also sweet. Caila and Jared went on a lovely horse riding beach date, and pretty much secured that they're into each other.
Will Caila find love in Paradise? Is Jared that love? It's unlikely on both accounts, but we'll eagerly keep up with her to find out.