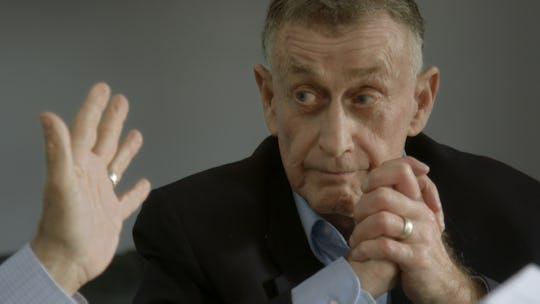 Netflix
Kathleen Peterson's Daughter Believes Michael Peterson Is Guilty
When Kathleen Peterson was found dead in her home on December 9, 2001, suspicions naturally turned to the only other person in the house at the time: her husband Michael Peterson. Despite that, the couple's five children (four of whom were Michael's, all from previous relationships) stood by their dad — until some information came to light that changed Kathleen's daughter's mind. Caitlin Atwater's quotes on Michael Peterson's involvement in Kathleen's death explain what eventually made her question what happened the night her mother died. (Romper reached out to Michael Peterson's representatives and Netflix for additional statements.)
Caitlin Atwater was the daughter of Kathleen and her first husband, Fred Atwater, though she was very close with the entire Peterson family. According to NBC News, Atwater called Kathleen and Michael "the most ideal parents" and she was thrilled by their marriage because it meant "a permanent sleepover" with Michael's adopted daughters, Margaret and Martha. She had already been friends with the girls when their parents met and connected.
It was learning more during the trial that made Atwater believe that Michael could have been involved in Kathleen's death. (Peterson maintains his innocence still to this day.) Kathleen's body was found at the foot of the stairs, with trauma to her head that indicated she may have been struck. Seeing photographs of that convinced Atwater that her mother's death was not just an accident. There were also unexpected revelations about Michael's sexuality and how he had come to adopt his daughters that raised questions about his supposedly happy marriage with Kathleen.
NBC News reported that after seeing Kathleen's autopsy photos, Atwater called Margaret and said:
I said, you need to read this, you need to understand that mom was not... she did not die from falling down stairs and she was beaten to death.
The sisters stopped speaking after that. Atwater told Dateline correspondent Dennis Murphy that she had lost "far more than just my mother. I did lose my family and my home." When asked if she believed Michael killed her mother, she said:
Yes. I absolutely do. There's no doubt in my mind.
When prompted for a possible reason why, Atwater called it "truly a culmination of a storm," that might have come from financial issues and secrets within the marriage.
It was revealed over the course of the trial that Michael was bisexual and had been corresponding with a male sex worker, even making plans to meet up. The defense team claimed Kathleen was aware of Michael's sexuality and was fine with it, but Atwater did not believe her mother would have been accepting. She told Dateline:
I genuinely cannot believe that she could know anything about that. I know — from every value that she's taught me, from every — from the way that I was raised, that's not something that she would have been willing to accept.
According to ABC News, that made Atwater view her stepfather in another light. She said, "I realized there was definitely another side to him."
Revelations about Margaret and Martha's birth family also made Atwater doubt Michael's innocence, according to CBS News. Michael had adopted the girls after their mother (and his good friend), Elizabeth Ratliff, died in a fall down the stairs. Before the trial, Ratliff's body was exhumed and autopsied, at which point a second autopsy suggested that she, too, had suffered head trauma, according to CNN. While Ratliff's murder remains unsolved, Michael was convicted of Kathleen's.
Though going through the trial was unimaginably difficult, Atwater did tell IndyWeek that it gave her a measure of understanding. She said that after "all was said and done, I felt confident that I knew what happened. I knew what happened to my mom." She didn't feel that she could ever achieve true closure, but she could move forward. She could also prevent Michael from ever profiting from the crime, which was one of the goals of the wrongful death lawsuit she filed against him. They settled the suit for $25 million and Atwater said, according to WRAL:
With this settlement, I believe that Michael Peterson is agreeing to an offer great enough to begin to speak to the value of my mother's life and the loss I must continue to deal with. By entering into this agreement, I can only hope I'll be able to put some of this behind me.
Atwater has suffered an unimaginable loss, but hopefully has been able to find peace in the intervening years.