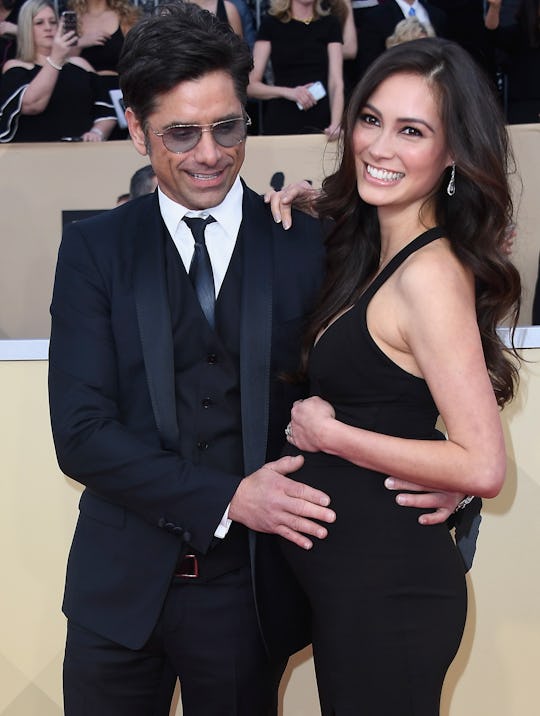 Frazer Harrison/Getty Images Entertainment/Getty Images
Caitlin McHugh Had The Perfect Clap Back After Being Mom-Shamed On Insta
John Stamos and his wife, Caitlin McHugh, welcomed their first child together in April 2018, and if social media is any indication, they've mostly been spending that time enjoying being the world's most adorable family of three. But in late July, McHugh shared on Instagram that she was gearing up to get back to work as a model, and according to her latest Instagram story post, it looks as though she's done just that. The new mom posted a cute video clip of herself dancing on the beach along with the caption, "back to work," but it sadly didn't take long until Caitlin McHugh was mom-shamed for her post-baby bikini shoot.
In a follow-up post, McHugh shared a screenshot of a comment one user had sent her that called her video "gross," and went on to suggest she shouldn't be posting clips of herself in a bikini because she's "a mom now." Clearly that user failed to get the message that mothers are actually still people (imagine that!), and although McHugh definitely didn't have to even bother to respond, her message was totally on point: she wrote that her supposedly "gross" video "[wasn't] as gross as trolling." And I think we can all agree that she is absolutely right.
As frustrating as it is to see people leaving comments like that on strangers' Instagram accounts, it's even more frustrating to consider that it's not even sort of surprising — and it speaks to the impossible standards we place on women. As much as McHugh might be getting hate for having the audacity to show off her body after having a kid, countless other moms get criticized for not "getting their pre-baby bodies back" soon enough, or for "letting themselves go" after having children. And then, let's not forget the added element of modeling actually being McHugh's job. Had she instead given up her modeling career to be a full-time mom? She'd almost certainly be criticized for that, too.
The good news is that McHugh did have some of her followers in her corner to let her known how ridiculous the troll was for calling her out. One user wrote that it was clear they were just "immature and jealous," which sounds like a pretty accurate assessment. But if McHugh needs a bit more reassurance, she won't have to look much further than her own husband.
When McHugh originally shared the news that she was heading back into modeling only a few months after welcoming her son, Billy, for example, she did so by sharing some of her new portfolio shots, along with a caption that read,
After a long hiatus (growing a baby) I am getting back in the game! Grateful to @wilhelminamodels for making the transition easy. Special thank you to Zach for taking these new digitals! #backtowork #lovemyjob
Many of the comments were about how beautiful (and incomprehensibly stretch-mark-less) McHugh was, but that didn't stop Stamos from chiming in with some supportive comments of his own. According to Us Weekly, he first joked, "YOU'RE SO HOT! Don't tell my wife I left this message," before adding, "You don't even know how beautiful you are. And that's just one more endearing quality about you that makes me love you so much!!!"
It's pretty clear then, that Stamos probably also has some choice words to share with anyone who is so much as thinking of mom-shaming his wife — but that's also not at all surprising given how quickly he jumps at the chance to tell the world how much he loves her. Prior to announcing their pregnancy in 2017, Stamos told Entertainment Tonight that McHugh was "the perfect woman," and added, "she's a gentle, kind, graceful soul who would be a good mother." And though it may have taken him longer than he expected to settle down and have kids, he said that he was more than OK with it if it meant he got to end up with McHugh. In Oct. 2017, Stamos also told Extra,
The truth is I just wasn't the best me and I wasn't going to attract someone like Caitlin. I had to work on myself and put in some time, and I know my mother would have been really happy with that, and this beauty just came into my life. But it took time for me to really be the best person I could be.
In other words? Being mom-shamed for her modeling career might have been infuriating, and it's definitely reflective of the super unfair double standards all women have to face when they become moms. But there's no question that McHugh has lots of love and support in her life, and if getting back to work in a bikini on the beach feels right for her? She absolutely deserves to celebrate that on Instagram.