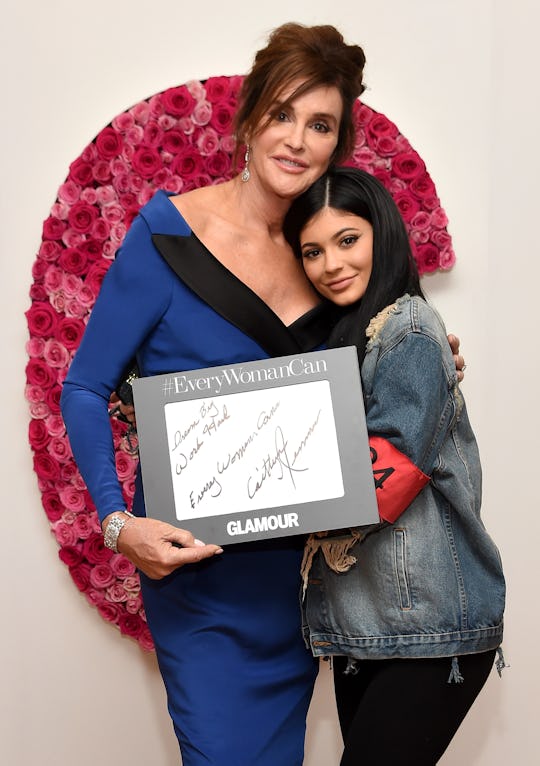 Nicholas Hunt/Getty Images Entertainment/Getty Images
Caitlyn Jenner Breaks Her Silence On Kylie's Baby & Her Message Is So Moving
On Super Bowl Sunday, Kylie Jenner surprised fans by revealing that not only was she indeed pregnant, but that she had also given birth to a baby girl on Feb. 1. The 20-year-old reality star had managed to remain silent about pregnancy rumors that began swirling back in September. And surprisingly, so did her family. Following an 11-minute video of her pregnancy journey that the new mom shared with her followers, Kylie's sisters and mother have since all taken to social media to congratulate her. Now, Caitlyn Jenner has broken her silence on Kylie's baby, and her message to her youngest daughter is so moving.
After months of keeping mum on the exciting news, I'm guessing it felt amazing for Caitlyn to finally share her joy. On Instagram, the proud grandparent shared an old baby photo of Kylie, writing, "My daughter just had a daughter. It's amazing to be by your side through this journey. She's SO beautiful already. Can't wait to watch her grow. Throwback to my baby, as a baby @kyliejenner"
Oh, my heart. (Someone please pass the tissues.) Thanks, Caitlyn, for reminding me that one day my babies will probably be having babies of their own, too.
In case you were too distracted by the Philadelphia Eagles beating the New England Patriots 41-33 in the Super Bowl, Kylie Jenner finally spilled the beans about her pregnancy via Instagram and Twitter on Feb. 4, E! News reported. She and her boyfriend, Travis Scott, had welcomed a baby girl! Jenner shared the news with her followers with a message that apologized for keeping them in the dark all this time. "I understand you're used to me bringing you along on all my journeys," she wrote. "My pregnancy was one I chose not to do in front of the world. I knew for myself I needed to prepare for this role of a lifetime in the most positive, stress free, and healthy way I knew how."
Two minutes later, Jenner followed up this revelation with an 11-minute video that chronicled her pregnancy — ending with the birth of her baby girl.
As E! News reported, Kris Jenner took to Twitter to publicly address her youngest daughter's motherhood for the first time on Sunday. Kris shared the pregnancy video "To Our Daughter," which was originally posted by Kylie. The proud grandmother also wrote, "God is SO good!! I am so excited and thrilled to welcome another precious baby girl to our beautiful, ever growing family. We are blessed beyond belief!"
Big sis Kim Kardashian — who welcomed a baby girl of her own on Jan. 15 — also shared her thoughts on Kylie delivering her first baby, as reported Us Weekly. "Mommy Kylie!!! You did it!!!" the KKW beauty mogul, 37, wrote Monday on her app. "I'm so incredibly proud of the woman you have grown up to be and I know that you are going to be the best mom to your new baby girl!" She continued:
Our girls are two weeks apart and I can't wait for them to be besties. I am so proud that you do what you want to do and live your life the way you want, you will pass down all of those amazing qualities to your baby girl. You were made to be a mom! I love you!
Not to be left out, Khloé Kardashian also gave a social media shout-out to her younger sister following the official birth announcement, Entertainment Tonight reported. Khloé, who happens to be pregnant with her first child, shared an adorable bump photo of herself and Kylie, along with a touching message. "Congratulations My Sweet Kylie! What a magical ride it's been! I'll miss you bumping along with me," Khloé wrote on Instagram. "Never in a million years did I think we would do this together but it's been that much more special because of it. God is so great!! He had His plan all along! I love you little mama love big mama."
As Kylie navigates the world of new motherhood, she clearly has an amazing support system in place to help her with a newborn. From sisterly advice on parenting, to free babysitting, to adorable cousin-playmates, I'd say this mama has all she needs to start this incredible journey on the right foot. Congrats on your precious baby girl!
Check out Romper's new video series, Bearing The Motherload, where disagreeing parents from different sides of an issue sit down with a mediator and talk about how to support (and not judge) each other's parenting perspectives. New episodes air Mondays on Facebook.