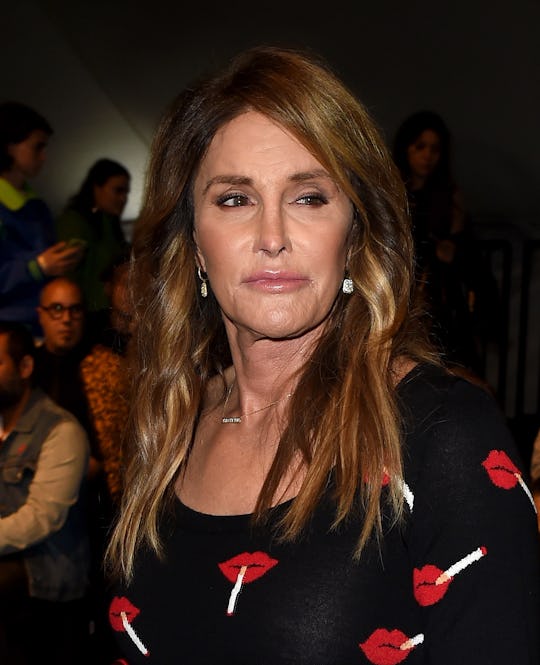 Kevin Winter/Getty Images Entertainment/Getty Images
Caitlyn Jenner On Kim Kardashian's Robbery & Why Everyone Should Be More Careful
The majority of the Kardashian-Jenner clan has yet to respond to the trauma that Kim Kardashian West experienced earlier this week when she was held up at gunpoint. But after what has been a truly scary series of events, Caitlyn Jenner's statement on Kim Kardashian's robbery perfectly encapsulated her love for her daughter. What's more, it offered others a strong reminder that everyone should be more careful.
Kim was held at gunpoint and robbed while staying at a private mansion in Paris. According to The French Interior Ministry, "five men threatened the mansion concierge with a weapon, handcuffed him and forced him to open the private apartment." Two of the robbers then entered Kim's room and held her at gunpoint. A source told CNN that Kim then "pleaded for her life as she was threatened with the gun, and was bound and forced into a bathtub." Stealing about $10 million in jewelry and two cell phones, the robbers left Kim in the bathroom. Physically, Kim was unharmed. Her children, North and Saint, were safe and were in New York; Her husband, Kanye West, was also in New York at the time, performing at a music festival.
Caitlyn Jenner took to Instagram to share her thoughts on the matter. She posted a black and white photo of Kim and wrote:
Love my girl! After hearing the full story, I'm so thankful she's okay. It's a reminder for us all to be careful in the uncertainty of this world.
It's absolutely true that the world has "uncertainty" and that all people, but women especially, can't be too careful. It's important to note that Kim, by all intents and purposes, was being careful. A violent crime was committed against her and she deserves support from family, friends, and fans alike. Tossing around any jokes or insinuations that she may have deserved the public humiliation or may have been asking for it is just crass.
E! reports that, at present, Kanye West, Kris Jenner, La La Anthony, and Jonathan Cheban "have all been spotted at her New York City apartment today" to be with Kim. E! also released a statement, saying:
All of us at E! are incredibly thankful that Kim Kardashian West is safe, and we send her and her family our love and support. Keeping Up with the Kardashians was not filming at the time of the robbery. Our focus right now is entirely on Kim's well-being.
Kim may be shaken up, but with Jenner's message and her family surrounding her, she can rest easy in the knowledge that plenty of people have her back.