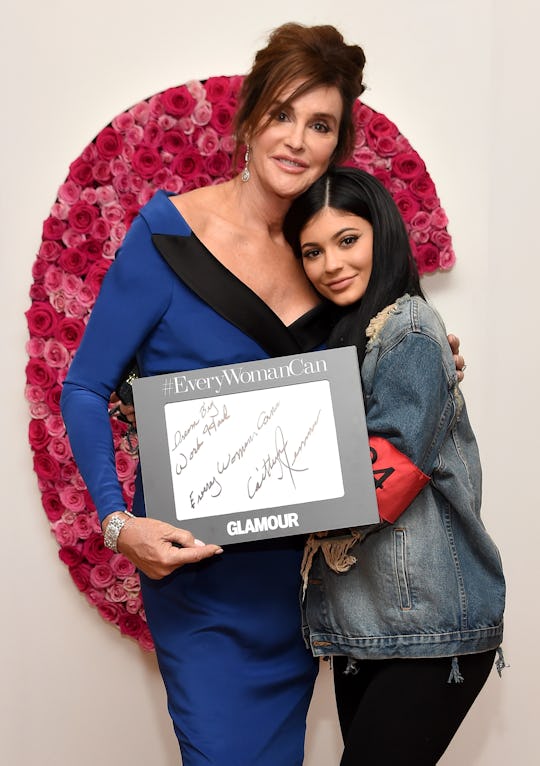 Nicholas Hunt/Getty Images Entertainment/Getty Images
Fans *Need* Caitlyn Jenner's Officially Response To Kylie Jenner Giving Birth
It finally happened. Kylie Jenner confirmed in an Instagram post on Sunday that she gave birth to her first child, a daughter, with rapper boyfriend Travis Scott this past Thursday, Feb. 1. Can we all just sit back and have a mimosa now, please? No, apparently we can't, because fans are impatiently awaiting responses from every single one of Kylie's friends and family members, as well as other celebrities she is close with. Caitlyn Jenner's response to Kylie Jenner giving birth hasn't officially appeared, but it's hotly anticipated, especially after fans thought that Caitlyn hinted at Kylie's pregnancy a number of times (stringing them along even further in what was already a Nancy Drew novel of a pregnancy mystery).
Update: Caitlyn issued an official response to Kylie Jenner giving birth via the sweetest Instagram throwback photo on Monday night. She wrote in the caption:
My daughter just had a daughter. It's amazing to be by your side through this journey. She's SO beautiful already. Can't wait to watch her grow. Throwback to my baby, as a baby @kyliejenner
Previously: Twenty-year-old Kylie wrote that the baby weighed 8 pounds, 9 ounces and arrived at 4:43 p.m. local time, according to People. Kylie wrote in her Instagram post:
I'm sorry for keeping you in the dark through all the assumptions. I understand you're used to me bringing you along on all my journeys. My pregnancy was one I chose not to do in front of the world.
I knew for myself I needed to prepare for this role of a lifetime in the most positive, stress free, and healthy way I knew how. There was no gotcha moment, no big paid reveal I had planned. I knew my baby would feel every stress and every emotion so I chose to do it this way for my little life and our happiness.
Pregnancy has been the most beautiful, empowering, and life changing experience I've had in my entire life and I'm actually going to miss it. I appreciate my friends and especially my family for helping me make this special moment as private as we could. My beautiful and healthy baby girl arrived February 1st and I just couldn't wait to share this blessing. I've never felt love and happiness like this I could burst! Thank you for understanding.
I mean, who can fault her for wanting to do the whole pregnancy thing — especially after the very lengthy and public criticism of her getting pregnant "at her age" — as hidden from the public eye as possible? I admire this message and her commitment to doing what was best for her prior to something as huge and life-changing as a first child. As someone who isn't the biggest Kylie fan, you go Kylie.
The internet seems to be mostly happen that the mystery has finally been solved, but what they want to know now is what in the heck do all the family members think? Well, for one, Caitlyn Jenner was probably prepared, because a number of sources reported that she seemed to accidentally hint at Kylie's pregnancy months after the rumors first broke. For example, on Piers Morgan in January, Caitlyn said she had 10 children and "12... 13..." grandchildren, according to Metro UK. But, as of that Piers Morgan episode in early January, Caitlyn only had 11 grandchildren, according to Metro's count. This sent fans into a frenzy, making them think that Kylie had actually already given birth. But maybe Caitlyn was just thinking ahead? She had 11 grandchildren and two brewing (Khloé Kardashian's future baby was OTW by then). Gotcha, Caitlyn!
And that wasn't the first time she let the mystery of the last year out of the bag. In late September, a representative for Caitlyn reportedly told The Sun regarding when Caitlyn found out Kylie was pregnant: "All I can tell you is that it was some time ago."
So, if Caitlyn already knew, and Kylie wanted as much privacy as possible during the pregnancy, maybe that's why Caitlyn wasn't with Kylie during the birth, as many fans noted on Twitter (with lots of sass)...
On Thursday night — the same day that Kylie gave birth — Caitlyn received the "Beauty Icon" award at the Xpose Benefit Awards at Mansion House in Dublin, Ireland, according to The Independent. Her speech touched on what beauty really means and how her transition forced her to contemplate, for example, whether she was a feminist and what that meant. She said, according to The Independent:
We talk about beauty, fashion, all those types of things...first of all, the way I look at it, I look at this room and there are beautiful women everywhere, I think beauty is more than just what you see. Beauty is about your soul. It's about what you do for society, what you give back to mankind.
But despite her appearance at this show, fans were uh, not very impressed that she wasn't with Kylie during the birth of Kylie's first child. A lot of fans also noted that Caitlyn didn't appear in the video montage documenting Kylie's pregnancy that Kylie uploaded to YouTube after announcing the birth. Maybe Kylie didn't ask her to be there? Maybe Caitlyn knew she would see her new grandchild soon after that? I'm not really sure Caitlyn's absence from the birth — especially when she was speaking on such important issues in Ireland — is really something to nitpick at.
Caitlyn's absence from the birth could also be explained by the fact that, um, pregnant women often don't give birth when you expect them to. Babies sometimes come at really inopportune moments. As for why Caitlyn is absent from Kylie's pregnancy video... I don't have an answer for that, so I guess we have yet another conspiracy theory on our hands now that the pregnancy mystery has ended. Phew, thank goodness we won't be bored for too long.
Check out Romper's new video series, Bearing The Motherload, where disagreeing parents from different sides of an issue sit down with a mediator and talk about how to support (and not judge) each other's parenting perspectives. New episodes air Mondays on Facebook.