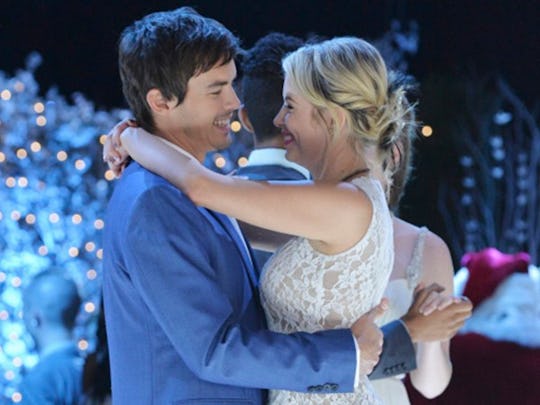 Freeform
Caleb & Hanna Should Get Back Together On 'Pretty Little Liars', & Here's Why
During the second half of Pretty Little Liars Season 6 there was a time jump that broke all Caleb and Hanna shippers' hearts. Fans found the liars in completely different stages of their lives, none of them with their high school partners anymore. Although in real life, most people don't marry who they dated in high school, in Pretty Little Liars it's kind of expected. Especially when it comes to "Haleb", which is why Hanna and Caleb should really get back together.
These two were absolutely perfect together. Sure they had their issues but they always overcame them and became stronger because of it. So to discover that not only did they break up during the five year time jump but also that Hanna was engaged to some random guy was too much. Then to make matters even worse, Spencer and Caleb started dating and Hanna even gave them her blessing! Why Hanna?
But in the Season 6 finale, Haleb shippers finally got some hope. Hanna explained to Caleb that she still loved him and that when she left him for work however many years ago she actually went back but he was already gone. And then they kissed! Sure, that was kind of rude to Spencer, but cheating aside it was a pretty great kiss and just another sign that they need to get back together. If that's not enough to convince you here's a few more reasons.