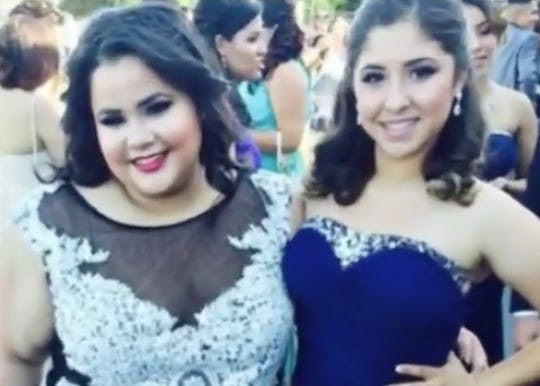 Chibis/YouTube
California School Makes Students Sign "Prom Contract" & It's A Horrible Message To Girls
Ah, high school: a time of firsts and lasts, of learning and growing, and of — um — shaming young women about their clothing? Wait, what? Well, intentional or not, that is exactly the message one California school sent with its "prom contract." The contract applies to both genders, according to Jay Simmonds, assistant superintendent for Ceres Unified School District, but the banned attire predominantly affects high school women: their prom dresses cannot be low-cut, backless, expose the midriff, or have too high of a slit:
You would be astounded at what some of these ladies have worn to prom. I think a lot of parents respect what we're doing here.
But don't worry: the form students doesn't only apply to the dress code. According to Simmonds, it covers dancing too:
Back-to-front dancing [will also not be allowed].
However, a report by CBS 13 revealed dresses that are "extremely tight, extremely short...[or contain any] see through material" are also banned, as was the case with Nada Abdo dress — one of the seniors at Ceres High School who was nearly kicked out of prom last year because her dress had a sheer back. The Ceres School District has not responded to Romper's request for comment.
The most annoying thing about this contract, is that, it truly applies to both genders, why does it only call out "ladies" and what they wore to the prom?
To me, this contract appears to be slut-shaming: the act of criticizing or punishing a woman for being too sexual, but what's "too sexy" is debatable at best, and a cruel double standard at its worst. To me, this contract is another example of rape culture, because it implies that if a woman dresses a certain way, or does certain things, she is "asking for something." To me, this contract is an example of a school failing its students. Because the school could have used this opportunity to teach their students about sex, and about safe sex (because, let's be honest here, this contract is about sex... and stopping sex). The school could have taken this opportunity to pass out condoms instead of yet another sexist and stereotypical piece of paper, and the school could have taken this opportunity to speak about the elephant in the room with young girls and boys, but it didn't.
Instead, they school drew up a contract and implied that young girls — and their garb — are to "blame" for attention they might get from boys. With this contract, the school assumed silence, and "appropriately covered backs," will keep the post-prom sex at bay.
(Newsflash: It won't, because if teenagers are going to have sex, they will do so regardless of the amount of skin showing.)
Ceres High School is hardly the first to face controversy over what students can wear to prom, or to school in general. In January 2015, Gabi Finlayson was sent home from her school dance in Highland, Utah, for failing to cover her shoulders. (According to TODAY, it wasn't that the dress was strapless, there just wasn't enough strap: the school's dress code required straps be at least two inches wide.) In April 2015, 18-year-old Macy Edgerly was sent home from Orangefield High School for wearing a baseball shirt and black, cropped leggings. And, in August 2015, Stacie Dunn's daughter got sent to the principal's office for failing to wear a shirt that covered her collarbone, which, according to TODAY, was a violation of the Woodford County High School's dress code. (Not the collarbone...anything but the collarbone!)
However, the greatest problem with these dress codes isn't that they unfairly target girls by body-shaming them — and blaming them for sexual harassment — they also cause young girls, with developing body images, to question and blame their bodies for attention they receive. They teach young women to be uncomfortable with their bodies. They teach young women they are nothing more than their bodies and, as The Atlantic reported, the female body is a "distraction." It's so much of a distraction, too, that it warrants disrupting their own educations. Laura Bates, co-founder of The Everyday Sexism Project, explained:
Often they [girls] report hearing phrases like, 'boys will be boys,' from teachers...there's a real culture being built up through some of these dress codes where girls are receiving very clear messages that male behavior, male entitlement to your body in public space is socially acceptable, but you will be punished.
Leora Tanenbaum, author of I Am Not a Slut: Slut-Shaming in the Age of the Internet, took it one step further and explained girls are "wrong" no matter what they wear or do, according to The Huffington Post:
If you are a heterosexual girl or young woman, you are damned if you don't and damned if you do. If you refrain from any expression of sexiness, you may be written off as irrelevant and unfeminine. But if you don't follow the guidelines, you run the risk of being judged, shamed and policed...[you] cross the invisible and ever-shifting boundary between "sexy" and "slutty."
So what are young women to do? Well, girls like Nada Abdo — one of the seniors at Ceres High School, speaking out against the dress code — should keep fighting. Educators should keep listening. And women — women who are older and wiser and on the "other side" of school — should keep speaking up. They need to continue to speak out, not only in public but in their homes. Not only with their girls, but with boys and young men. Because there is a generation of young women and men — and their educations — at stake. Our children are at stake.