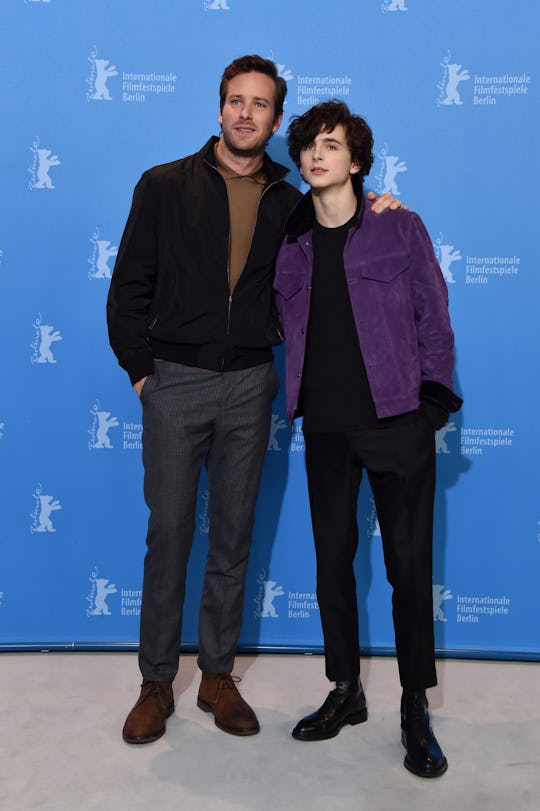 Pascal Le Segretain/Getty Images Entertainment/Getty Images
'Call Me By Your Name' Trailer Has Everyone Buzzing
Ever since Call Me By Your Name made its debut at Sundance to rave reviews, anticipation for the film has been high. Directed by Luca Guadagnino, the film is an adaptation of the critically acclaimed book of the same name written by André Aciman. It follows a seventeen year old boy named Elio (played by Timothée Chalamet) during one summer at his family's Italian villa in 1983 when he starts a relationship with a visiting American student Oliver (Armie Hammer), who is there to work with Elio's father. The film won't be released until November 24, which may sound like an interminable wait, but hopefully the Call Me By Your Name trailer can hold interested parties over until then.
Though a few scenes have been made available before now that offered glimpses into the world of the film, the trailer provides a more full picture. Elio and Oliver's growing attraction over the course of the summer is intercut with stunning scenic shots of Italy and scored by Sufjan Stevens, who provided the film with its soundtrack. Call Me By Your Name seems like a traditional coming of age story in many ways, with Elio growing up and figuring himself out as the summer progresses, but that doesn't mean it's not telling a very singular story.
Positive reviews for Call Me By Your Name have been effervescent with praise. Though it's a contained movie in many ways – shot in or around a single location, set over one summer, featuring a small cast – its very personal sentiment and tenderness appear to have won over many critics. Its been celebrated for capturing the beauty of the novel and telling its story with sincerity, even though a teenager growing up by falling in love might not seem like something new at first glance.
The book is somewhat notorious for a sex scene involving a peach (which apparently does make it to the screen) and the film has been described as "sensual" just about every time it's spoken of, but Guadagnino wanted to explore many different facets of what that sensuality meant. "It was important to me to create this powerful universality, because the whole idea of the movie is that the other person makes you beautiful – enlightens you, elevates you," Guadagnino told The Hollywood Reporter. "The other is often confronted with rejection, fear or a sense of dread, but the welcoming of the other is a fantastic thing to do, particularly in this historical moment."
Call Me By Your Name might be a few months away, but from the sound of it, it will be worth the wait.