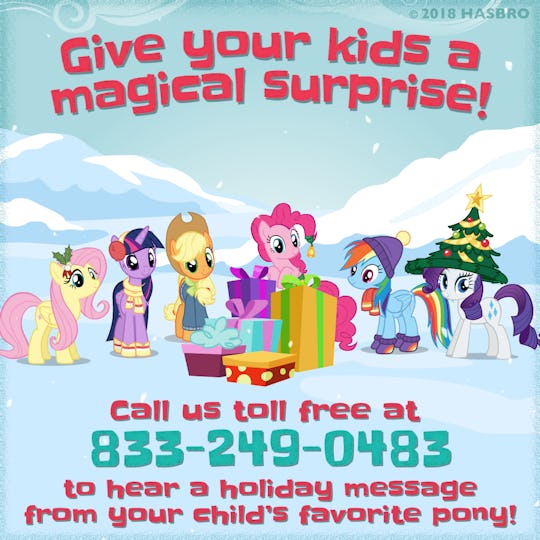 Courtesy of My Little Pony
My Little Pony Fans Will Flip For This Special Holiday Hotline They Can Call
If your child is part of the My Little Pony fandom, and let's be real, they probably are considering how huge My Little Pony is right now, then this surprise treat is about to make their holiday season. Best of all, this holiday surprise is totally free – and that never happens! Starting today, your little ones can hear a special holiday message from their favorite pony of the Mane 6 by calling the My Little Pony holiday hotline. Or, if they're a typical, indecisive kid (or simply an uber-fan), they'll call multiple times and listen to each message from every single pony, probably more than once.
Are you absolutely filled with secondhand excitement yet? Hopefully you don't need your cellphone this afternoon, because I have a feeling your child is going to be holding it hostage for a bit. To listen to the festive messages on the My Little Pony "Best Gift Ever Hotline," your child will simply call the number at 833-249-0483. (For younger children, I'd recommend that you do the dialing to ensure you connect to the appropriate hotline.) Once connected, they'll select the extension number, one through six, to hear the message from their pony of choice.
Obviously, the hardest part is selecting which pony to hear from (or, which pony to hear from first). If you need a quick refresher on who's who, here are their character descriptions:
This hotline ties in with the My Little Pony: Friendship is Magic "Best Gift Ever" special. If you haven't seen it yet – "How?" gasp the parents who are on their sixth watch – don't worry, it's available to stream on Netflix right this moment, so you officially have your family's plan for tonight!
And because there's absolutely no such thing as too much My Little Pony, Hasbro has also released a Best Gift Ever Mane 6 Celebration set, which ties in with the Netflix holiday special. This set includes all your favorites: Twilight Sparkle, Rarity, Applejack, Fluttershy, Rainbow Dash, and Pinkie Pie. Each pony comes decorated with sparkles perfect for the holiday season, along with a "mystery gift" for a pony gift swap. The set is $24.99, and is available for purchase from the official My Little Pony online store. If your child loved the holiday special, this is pretty much the perfect holiday gift. And, of course, the free hotline is the cherry on top!
This first-time mom wants to have a home birth, but is she ready? Watch how a doula supports a military mom who's determined to have a home birth in Episode One of Romper's Doula Diaries, Season Two, below. Visit Bustle Digital Group's YouTube page for the next three episodes, launching Mondays in December.