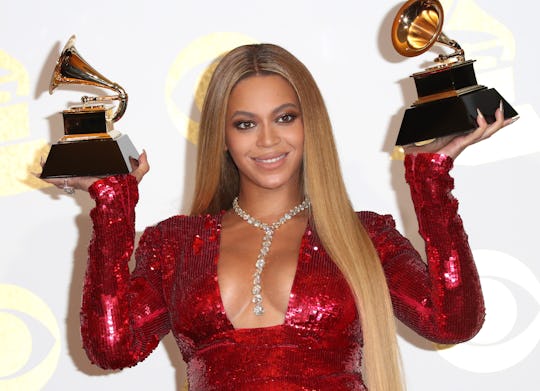 Frederick M. Brown/Getty Images Entertainment/Getty Images
Let's All Calm Down About The Beyoncé Labor Rumors
We all know that Beyoncé does some of her best work in secret. Her 2013 self-titled album Beyoncé and 2016's conceptual short film/visual album Lemonade both dropped with little indication that they were on the way. (Well, aside from an epic Instagram teaser, in Lemonade's case.) When it comes to her babies, of course, she's even more secretive: Bey kept her pregnancy with Blue Ivy under wraps for as long as possible.
Now that she's pregnant with twins, fans are wildly speculating about when Beyoncé will announce their birth. That speculation ramped up to a fever pitch on Wednesday, when rumors started spreading on social media that Beyoncé was in labor. But it's not up to us to start freaking out over Beyoncé's impending birth announcement — she'll do it on her own damn time, the way she's done everything else in her life.
Beyoncé doesn't like to reveal personal news on anyone else's schedule but hers. According to a 2013 Time magazine article, Bey said in a press release for her self-titled album that she was bored with the traditional mode of releasing albums and wanted to be able to release the music when it was ready, not on anyone's schedule. And in true Bey fashion, when she announced her pregnancy with Blue Ivy, she did it in a semi-cryptic way at the MTV Video Music Awards, saying, "I want you all to feel the love that's growing inside of me," then opening her jacket to rub a cute but noticeable baby bump.
That revelation was intentional. In an interview with Harper's Bazaar, Beyoncé said she didn't want to see her pregnancy revealed by the tabloids or anyone else: "I put a lot of thought into how I wanted to unveil it. It was important to me that I was able to do it myself."
Since Beyoncé announced she was pregnant with twins in February, the media has been counting down the days for her to give birth, with fans scrambling to find clues and "insiders" reporting that they saw her security leaving her home with two baby car seats. But the speculation has gotten out of control.
Every woman deserves the right to make her own decisions regarding her pregnancy, including how they give birth and who gets to know about it.
The constant scrutiny of anyone's pregnancy is an added stress to an already emotionally and physically demanding time in a woman's life, and any woman who has suffered pregnancy loss as Beyonce has knows just how important it is to reveal and experience pregnancy on her own terms. When Beyoncé felt safe enough to share her twin pregnancy with the world, all we needed to do was let her experience that joy and share in it. But we haven't been able to let her do that.
But Bey continued doing what Bey does and refused to respond to the rumors directly. On January 7, 2012, Blue Ivy Carter was born, and the new parents waited to officially confirm and announce it for another few days. With the twins, however, Twitter is not waiting for an official reaction. They're calling it.
Despite the vague clues that Beyonce is birthing or has already birthed her twins into this world, it's perfectly cool to just wait for her personal announcement. Every woman, even Queen Bey, deserves the right to make her own decisions regarding her pregnancy, including how they give birth and who gets to know about it. Let's await the confirmation straight from the source when she is good and ready, on her own terms and in her time. Because let's be real: has Bey disappointed us with an announcement yet?