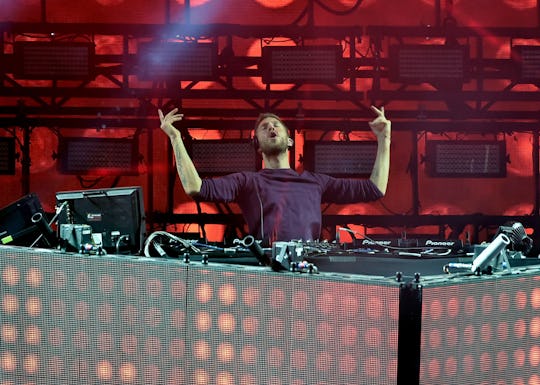 Kevin Winter/Getty Images Entertainment/Getty Images
Calvin Harris Has A Semi-Meltdown About Taylor Swift On 'This Is What You Came For'
On Wednesday afternoon, DJ and singer-songwriter Calvin Harris had a meltdown about Taylor Swift on Twitter, in response to an article in People magazine that confirmed Swift wrote Harris's hit song, "This Is What You Came For." The 32-year-old Brit took to Twitter and revealed that not only did Swift write the song, she "sings on a little bit of it too." But Harris's otherwise positive tweets were quick to throw shade as he called out Swift's publicists, saying, "Hurtful to me at this point that her and her team would go so far out of their way to try and make ME look bad at this stage though."
Harris was most likely reacting to this little tidbit from the brief article in People: "After recording a full demo, they agreed to keep the collaboration on the down-low, but Swift was hurt after Harris did an interview and said he couldn't foresee working with his then-girlfriend in the future." Petty remarks indeed — and Harris wasn't about to let any of that bullsh*t slide as he continued his refreshing rant on Twitter. Here's a look at Harris's Twitter semi-meltdown about Swift, tweet by tweet.
Yes, Taylor Swift Wrote "This Is What You Came For"
Harris retweeted a tweet from @people confirming that yes, Swift was behind Harris's killer single, "This Is What You Came For." He even goes on to praise her songwriting abilities. Classy move, Calvin. I like it.
Nils Sjoberg = Taylor Swift
Harris goes on to explain that Swift used a pseudonym on the actual song credits (Nils Sjoberg, as People revealed). He also spells exactly who did what in terms of producing the song. Alright, fair enough — the clarity is appreciated.
Is It Getting Shady In Here?
Ruh-roh... here's where Harris starts to get personal. Harris is likely acknowledging the bit from the People article that Swift seemed "hurt" by Harris's remarks about working together while they were still dating. Or perhaps he's making a larger comment about the fact that their secretive songwriting arrangement has now suddenly been brought to light at all.
Oh No He Didn't
It only took four tweets before Harris invoked the recent budding relationship between Swift and actor Tom Hiddleston. But in all fairness, Harris makes a compelling point.
OH SNAP
Not only did Calvin Harris just name-check Katy Perry — remember that whole catty Taylor Swift Katy Perry Twitter feud from a few years back — he took a stand for himself by refusing to be just another defeated ex on her roster of ex-boyfriends. Good on ya, Calvin.
Taking The High Road
Oh man: Harris is in full-on "sit down and have some respect" mode now as he artfully schools Swift on her seemingly petty need to drag him down so soon after their breakup.
Kill 'Em With Kindness
A shockingly polite end to Harris's Twitter meltdown, don't you think? Man, to be a fly on the wall of Swift's room right now...