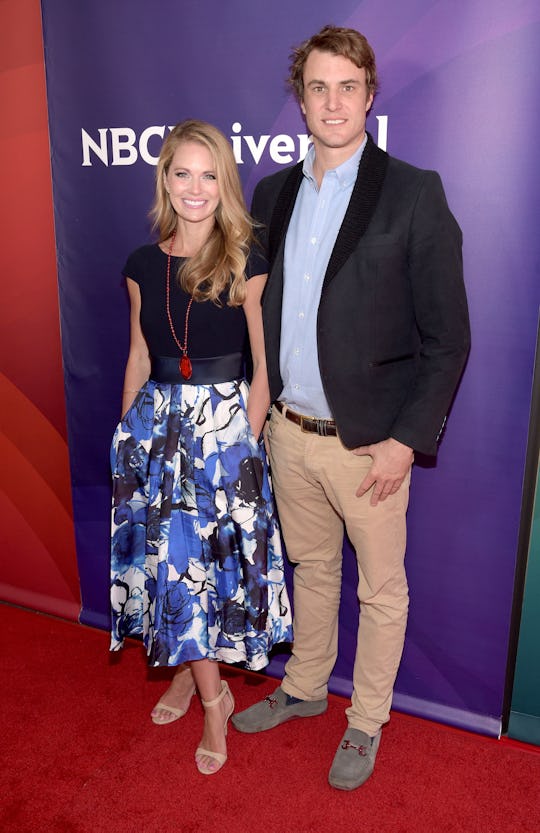 Jason Kempin/Getty Images Entertainment/Getty Images
'Southern Charm's Cameran Eubanks Is Pregnant!
And baby makes three! On Wednesday, Southern Charm star Cameran Eubanks announced she was pregnant and expecting her first child with husband Jason Wimberly. The 33-year-old broke the happy news on social media, posting a sweet photo of the couple holding a sonogram image and a pink balloon. "Times a changin' y'all!" she captioned the snapshot.
"Baby GIRL Wimberly will be touching down this fall!" Eubanks wrote. "Excited (and nervous) for this next chapter in life!"
Despite their obvious excitement, the parents-to-be are a notoriously private couple when it comes to their relationship and home life together, so any tidbits of information or happy reveals prompt plenty of chatter among Eubanks' fan-base. (A quick browse through the ecstatic comments on the star's post are proof of that.) But there's a reason Eubanks says she keeps her relationship with her husband out of the spotlight — and, subsequently, why little glimpses into her expanding home life are so sweet.
"It's just kind of a non-negotiable for me. My husband, he has sense — common sense — therefore, he chooses to stay off reality television," Eubanks told Entertainment Tonight in April last year. "My relationship is very precious to me, so, I try to keep that private."
That privacy has kept the couple's marriage steady. Regardless, from time to time, a little bit of Eubanks' private life does make its way to the small screen: As ET noted, previous Southern Charm episodes saw the star discussing motherhood and whether she planned to have children. "You'll have to wait and watch," she told the outlet at the time, noting that she "went to therapy for it."
It seems that she may have made up her mind now, given how thrilled she and Wimberly appeared in her Instagram shot on Wednesday.
Wimberly — a Charleston-based doctor, according to Bravo — and Eubanks wed back in 2014; To help balance out the craze of filming a television show, the soon-to-be mom said in an interview with the network that she had "compartmentalize[d]" her life on and off-camera — and her personal life was all the better for it.
"My life is pretty boring. I like it that way," she told Bravo's The Daily Dish in February. "Filming the show is so nuts that when the cameras are gone I turn into somewhat of a recluse. In my spare time this week I've been cleaning my baseboards. Thrilling, I know."
Eubanks and Wimberly might want to enjoy those precious quiet moments now, before their impending bundle of joy makes his or her debut in the fall — because while parenthood is a beautiful thing, it's definitely a tiring one too.
Congrats to the happy parents-to-be!