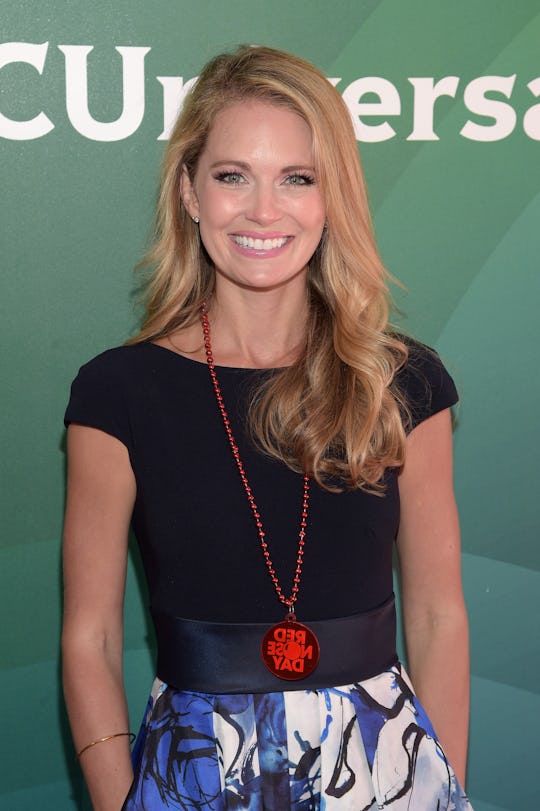 Jason Kempin/Getty Images Entertainment/Getty Images
Cameran Eubanks Opens Up About Why She Stopped Breastfeeding, & Her Honesty Is So Refreshing
Instagram followers of Cameran Eubanks will be among the first to tell you that the Southern Charm star isn't one to sugarcoat anything: What you see is what you get. And since she has become a mother, this policy remains true — even when she knows she will receive backlash for her decisions. Eubanks proved her transparency back in January, when she announced she would no longer be breastfeeding, by choice. In a recent interview with People, Cameran Eubanks opened up about why she stopped breastfeeding, and this is why it's so important.
If you remember, Eubanks posted an announcement on Instagram back in January revealing she was officially done with breastfeeding — and unsurprisingly (though frustratingly) she was shamed for her decision, as Us Weekly reported. "Today marks the day I am DONE with breastfeeding," the new mom wrote. "Gave it a good almost 3 months and I am retiring the boobs. Writing this in hopes it will make other mothers feel less alone."
At this point, many followers probably assumed the new mom was struggling with her milk supply, but this simply wasn't the case, as Eubanks went on to explain in her powerful post. She continued:
You see, I'm not quitting because my milk supply dried up or because I'm sick ... I'm quitting because I'm just plain OVER IT. By CHOICE. I know I will get lectured and judged by this but it doesn't bother me. I need some freedom back for my sanity and the bottle and formula will allow that. You are NOT a bad mother if you don't like breastfeeding. A happy Mama is the best gift you can give your baby.
During a recent interview with People, Eubanks opened up a little more about her decision — along with why she decided to share it with her Instagram followers. "When I got pregnant, I made the decision that I wanted to be really honest about what I went through on social media," she told the publication. "And with breastfeeding in particular, I feel like there's so much pressure on women these days that if you don't breastfeed, you're a bad mom, you're not organic and you're not doing the best thing for your baby." She continued:
It was starting to make me depressed and it was affecting my mental health, so I chose to throw the towel in. I think a lot of women do the same but they don't want to admit to it, so they lie and they say their milk dried up or they had an issue.
While the American Academy of Pediatrics (AAP) recommends exclusive breastfeeding for the first six months, and continuing until at least age 1 in combination with solid food, there's a lot more to the equation than simply telling a new mom, "breast is best." If continuing breastfeeding is causing a mother physical and/or emotional turmoil, then a family may need to reassess. Because, despite the potential benefits of breast milk, having a depressed or anxious mother is definitely not good for a little one. (Or mom, of course.)
In remaining transparent with her struggles, Eubanks has managed to help other moms struggling with breastfeeding. "I've received so much positive feedback from women saying, 'Oh my God, I felt the same way but I didn't want to say it. I didn't want to be judged,'" she told People.
In case you're not too familiar with this mama's background, the Southern Charm star became a mother to a baby girl named Palmer in November, as E! News reported. Since then, she has remained refreshingly honest about her journey — something her social media followers have undoubtedly appreciated.
Like the disturbing reality of postpartum hair loss.
And the struggle that is meal planning while caring for an infant.
To understanding how liberating it is not having to use all of those annoying (but totally necessary, at the time, when you're sore and bleeding for weeks on end) postpartum products.
As well as the odd hodgepodge of topics that is a parent's online search history.
Although she's still relatively new at this whole motherhood business, Cameran Eubanks already seems to be incredibly wise when it comes to acknowledging her limitations and making smart decisions for her family. When society relentlessly tells you "breast is best," it can be difficult not to feel guilty when things don't work out as planned — when you realize the potential benefits aren't worth your baby having a depressed, stressed-out mama. Thank you, Cameran, for letting other moms in the same situation know they aren't alone.
Check out Romper's new video series, Bearing The Motherload, where disagreeing parents from different sides of an issue sit down with a mediator and talk about how to support (and not judge) each other's parenting perspectives. New episodes air Mondays on Facebook.