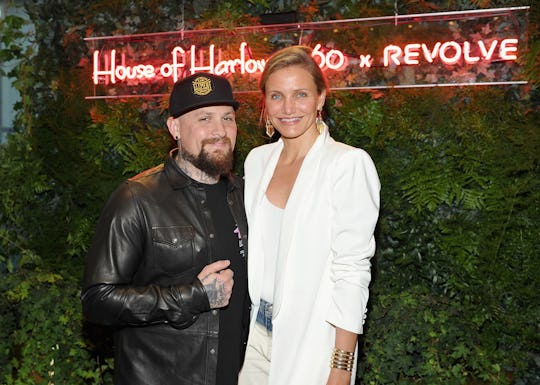 Donato Sardella/Getty Images Entertainment/Getty Images
Celebrate Valentine's Day By Reading Cameron Diaz & Benji Madden Gush About Each Other
While they've managed to keep their personal lives out of the spotlight, Cameron Diaz and Benji Madden have said some romantic things about each other over the years. Between their loving marriage and welcoming a daughter together earlier this year, the couple's relationship is truly something to swoon over.
The 47-year-old actress and 40-year-old Good Charlotte frontman tied the knot back in January 2015 in a private ceremony at their home in Beverly Hills, People reported at the time. And after nearly five years of marriage, the couple went on to welcome a daughter named Raddix Madden together.
Earlier this year, Diaz shared the exciting news in a statement on Instagram. "Happy New Year from the Maddens!" Diaz's Jan. 3rd announcement on Instagram began. "We are so happy, blessed and grateful to begin this new decade by announcing the birth of our daughter Raddix Madden. She has instantly captured our hearts and completed our family." Diaz added that she and Madden "won't be posting pictures or sharing any more details" about their daughter, "other than the fact that she is really really cute!!"
Diaz and Madden very clearly value their family's privacy, but they have gushed about each other a few times over the years. So ahead of Valentine's Day this year, let's take a look at some of the romantic things they've said about one another.