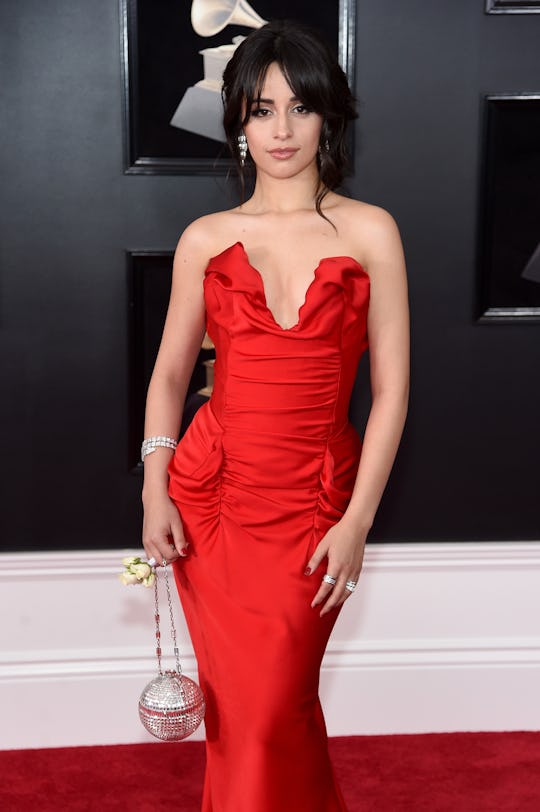 Jamie McCarthy/Getty Images Entertainment/Getty Images
You *Need* To Hear Camila Cabello's Message For Dreamers At The 2018 Grammys
The Grammys have never shied away from making powerful political statements through musical performances and speeches alike. This year, Fifth Harmony member Camila Cabello is in the spotlight as her solo career begins to take off, and, as a Cuban-Mexican immigrant, she took the opportunity to amplify the voices of other immigrants. Camila Cabello's message for Dreamers at the 2018 Grammys was super inspiring and, needless to say, her fans should be proud.
When introducing U2's performance, which took place outdoors with the Statue of Liberty as a backdrop, Cabello said:
"Tonight, in a room full of music's dreamers, we remember that this country was built by dreamers, for dreamers, chasing the American Dream. I'm here on this stage tonight because, just like the dreamers, my parents brought me to this country with nothing in their pockets but hope. They showed me what it means to work twice as hard and never give up. And honestly, no part of my journey is any different from theirs. I'm a proud Cuban-Mexican immigrant born in Eastern Havana, standing in front of you on the Grammy stage in New York City, and all I know is, just like dreams, these kids are worth fighting for and can't be forgotten."
During her intro, cameras panned to Logic, Lorde, and Beyoncé, among others in the audience, all giving it up for Cabello's moving speech. (Blue Ivy may have stolen the spotlight for a moment in an adorable shot of her trying to shush her parents' wild applause; Twitter momentarily turned into a collective crying laughter emoji.) And this wasn't Cabello's only powerful moment on stage. She also appeared alongside Cyndi Lauper, Julia Michaels, Bebe Rexha, Andra Day, and the Resistance Revival Chorus for Kesha's performance of "Praying," which was particularly affecting in light of the #MeToo Movement. As Kesha sang her last note, she virtually collapsed into the arms of the women supporting her on stage, and at least one person in the audience was visibly teary.
Cabello has spoken out on behalf of Dreamers before. When performing her hit single "Havana" on The Today Show this past September, she opened the performance with a shoutout, saying, "This is for the dreamers!" Later, during the song, she took a break to add, "This is America, the America we love, where no matter your race, your color, your beliefs or where you came from, if you have a dream, you can make it possible."
"Dreamers" refers to would-be beneficiaries of the DREAM Act (the Development, Relief, and Education for Alien Minors Act), a bill that was first introduced in 2001 and has failed to pass on several subsequent reintroductions. In lieu of a bill passed by the U.S. House and Senate establishing a pathway to citizenship for undocumented folks who entered the United States as minors, the Obama Administration passed the Deferred Action for Childhood Arrivals (DACA) by executive order — an order that was later rescinded under the Trump Administration, leaving 690,000 immigrants who have lived here since childhood susceptible to deportation.
Trump has since claimed that his decision was intended to force Congress' hand in passing a viable DREAM Act, but in the meantime, the fate of immigrants who were once protected under DACA is up in the air. And as Congress stalls out taking a vote — or even talking about taking a vote — hundreds of thousands of young people are left to cope with the anxiety of waiting it out. Cabello's speech meaningfully shoved those people back into the conversation once more.
Check out Romper's new video series, Romper's Doula Diaries:
Watch full episodes of Romper's Doula Diaries on Facebook Watch.