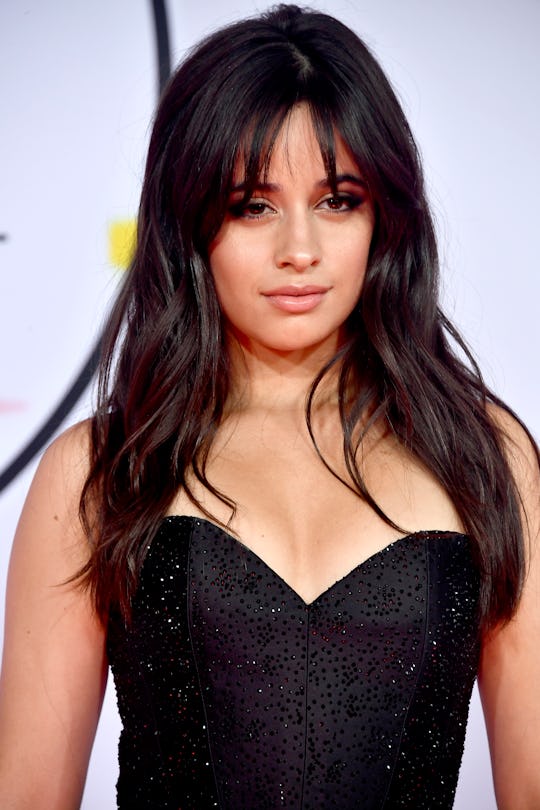 Frazer Harrison/Getty Images Entertainment/Getty Images
Camila Cabello's Response To Pregnancy Rumors Shows Why They're So Frustrating
If you're a woman in the public eye, chances are you're going to hear a pregnancy rumor about yourself at some point. Pregnancy rumors about celebrities, or anyone else, may seem harmless, but they can actually be pretty annoying. Recently, Camila Cabello's response to pregnancy rumors highlighted what's so irritating about them.
Let's be real: starting in elementary school, everyone has been told not to spread rumors, but that decorum seems to fly out the window when it comes to ones about pregnancy. It may be exciting to think that your favorite celeb is expecting, but spreading those rumors is rarely helpful. Not only are they usually untrue, but sometimes those rumors can be a little rude.
Previously a member of Fifth Harmony, Camila Cabello is now perhaps best known for her songs "Havana" or "Never Be the Same". Back in February, Cabello reportedly began dating 31-year-old Matthew Hussey, as reported by Just Jared.
On Friday, Oct. 26, Cabello shared a photo of herself on Instagram, posing with her hand over her stomach, with the caption, "You're the only thing I did right."
This photo caused fans to start speculating as to whether Cabello was expecting a child with Hussey.
Some fans were mainly speculating, such as one user who commented, "Is she pregnant? The way she is holding her stomach."
A few of the comments got to be more hurtful, though. One user added, "When your belly is that fat, you have to say that it's just food and not a baby. That's honestly embarrassing."
"Why can't a person just touch there stomach without being called pregnant?" a fan wondered in the photo's Instagram comments, asking what most people are thinking.
Cabello was quick to clear away all the rumors, commenting, "Guys don't be crazy. I'VE BEEN TOURING AMERICA EATING DELICIOUS FOODS LEAVE ME AND MY BELLY ALONE!"
Although Cabello cleared up those rumors quickly, it helps highlight why these rumors can be so irritating. Women's bodies are already under a lot of scrutiny, so speculating that someone is pregnant because it seems they gained weight can be rude.
Recently, Big Bang Theory star Kaley Cuoco shut down some pregnancy rumors of her own, too. Rumors began to fly after Cuoco posted a photo of herself and her sister, Briana, at an event, as reported by Metro UK.
Cuoco posted her response on her Instagram story and, understandably, it got to be a little emotional. The videos can't be seen there anymore, but clips can be found on Metro UK. In the clips, Cuoco can be heard saying:
"So, because I'm in traffic I thought I'd take this time to comment on some Instagram trolls. I posted a picture this morning of my sister and I from an event last night and people said I looked pregnant. Now, would you ever walk up to someone on the street or at an event where they're obviously dressed up and say, 'Are you pregnant?' Needless to say, the answer is NO."
The actress went on to add:
"It's just so comedic and shocking that people would ask that. I'm not pregnant. I guess it was a pregnant angle. Seriously, shut up."
It's clear that these type of rumors may seem exciting, but they're ultimately more hurtful than helpful. Pregnancy is a very personal topic and most people don't know what's going on in someone's lives. If somebody is pregnant, it's something they should announce on their own terms, and not because of speculation.