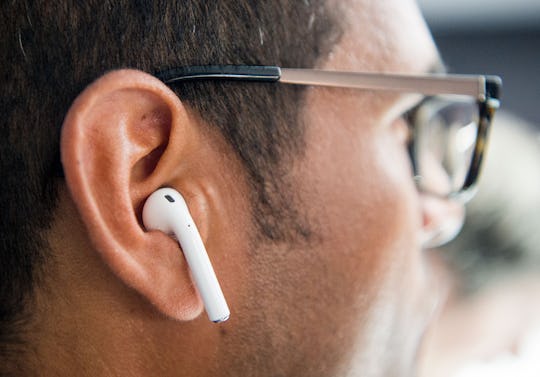 JOSH EDELSON/AFP/Getty Images
Can A Kid Wear AirPods? Some Twitter Users Are Asking
In an announcement on Wednesday, Apple introduced its latest iPhones — the iPhone 7 and iPhone 7 Plus. Along with new features, like being water and dust resistant, the newest addition to the Apple family is free of a headphone jack, causing users to depend on AirPods for musical enjoyment. The Apple AirPods are wireless headphones with built-in speakers, antennas, and a microphone. So, can a kid wear AirPods? Some people on social media have questioned its safety for children.
The wireless AirPods very closely resemble the previous EarPods for Apple phones, except for the new wireless feature of course. But additionally, Apple announced that the AirPods are equipped with a "Apple W1 chip" which reportedly improve the wireless connection to the iPhone. And for all of you Siri fans out there, Apple also noted that the AirPods will still allow access to the always-helpful, Siri.
But since the announcement of the soon-to-be-released AirPods, many have taken to social media to jokingly point out that the new Apple product seems like it'll be hard to keep track of. I know I for one have misplaced too many Apple headphones to count.
In true inevitable Twitter fashion, the hashtag #AirPods was trending throughout the Twitterverse.
But aside from adult-related concerns about losing the new AirPods, some parents, and other Twitter users have expressed concern about kids using Apple's new $159 headphones, according to Thrillist. Additionally, the Telegraph reported that Twitter users questioned whether the AirPods will be a choking hazard.
Apple didn't immediately return Romper's request for comment regarding child safety questions surrounding the AirPods.
Whether it's a concern about losing the AirPods that they could be a potential safety hazard for children, parents will likely investigate all safety precautions should they purchase Apple's new headphones.
The new headphones and the iPhone 7 and 7 plus will release Sept. 16., according to a statement from Apple. And apparently, Apple already projected the new phone would sell out:
"As we have expanded our distribution through carriers and resellers to hundreds of thousands of locations around the world, we are now at a point where we know before taking the first customer pre-order that we will sell out of iPhone 7," Apple spokeswoman Kristin Huguet said according to Reuters. "These initial sales will be governed by supply, not demand, and we have decided that it is no longer a representative metric for our investors and customers."
According to a CNN Money report, preorders on Friday have already prompted Apple to push delivery dates back for the iPhone 7. It will be interesting to see the reaction once people get their hands on the new phone – or ears holding up the new AirPods.