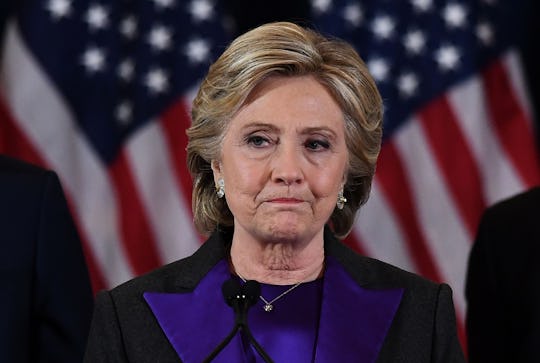 JEWEL SAMAD/AFP/Getty Images
Can Donald Trump Send Hillary Clinton To Jail? It's A Complicated Process
Now that Donald Trump has won the election, it's time for voters to really start considering the policies on which he ran. One looming question is whether or not Trump can really send Hillary Clinton to jail. He threatened it on the debate stage a few times and his supporters chant "lock her up" at his rallies. So now that his supporters have voted him into the White House, locking "Crooked Hillary" up should be on the agenda. The scary thing? Trump actually could take steps to jail the former Secretary of State.
But there are a few steps to actually making it happen. First off, Trump would have to ask whomever he chooses as his attorney general to get a special prosecutor. Whoever that happens to be would then have to agree that Clinton's handling of classified emails was criminal. That could be hard, since the FBI has already concluded twice now that there were no criminal charges to bring. But, let's just say they do — they would charge her, but there would be a fair trial, because that's what Americans do. And during that trial, Clinton's lawyers would have a good defense. I'll just repeat it here in case you missed it: The FBI did not find any evidence that she committed any crime.
So if people voting for Trump really, really voted for him to lock up Clinton, they might be in for a disappointment. Still, Trump and his surrogates maintain that they're still considering it. On Wednesday, Kellyanne Conway, Trump's campaign manager told CNN that they didn't discuss the special prosecutor after he won the election and also added that when Clinton called to concede, Trump did not mention it. She said that the phone call was cordial.
"He commended her for being smart and tough and running a very hard-fought campaign. And I am told Secretary Clinton congratulated Donald Trump on his victory, and conceded to him," Conway said.
According to The Daily Mail, Conway said the same thing on Good Morning America and added that Trump and his campaign were looking for "unity" after the divisive election season. "'We look very much forward to Mr. Trump, and President Obama, Secretary Clinton, and many, many other leaders in this country to coming together to help unify and heal the country," she said.
At the Trump victory party in New York City on Tuesday night and well into Wednesday morning, there were reports that the crowd was chanting "lock her up." Even if Conway seems to want to want to redirect the conversation to the transition into the White House, it's not likely that Trump voters have forgotten the promise to jail Clinton.
Eventually, someone's going to have to either find that super special prosecutor or break it to all of those red states on the map that Clinton won't be behind bars anytime soon.