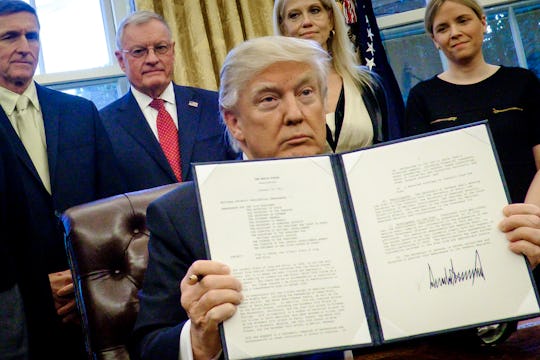 Pool/Getty Images News/Getty Images
Overturning Trump's Immigration Ban Won't Be Easy
With only a week in the Oval Office under his belt and freakishly long ties, President Donald Trump has managed to send shockwaves all over the world with his strict travel ban targeted at citizens from a handful of Muslim-majority countries. As a result, many Americans, immigrants, and refugees are understandably worried about how Trump utilizing this type of presidential "power" will change things in the future. Still others are perhaps wondering if this executive order can be overturned.
The good news: Yes, it's possible. Executive orders can be challenged and Democratic senators are already working on legislation to overturn the controversial immigration ban. The bad news: It's a timely process, which could take months or years and the Supreme Court would have to find the executive order unconstitutional. Congress is also not able to stop Trump from pushing through any other executive orders, so in the short-term, not much can be done.
It's no easy feat, but plenty of people are already working towards either blocking or overturning this particular executive order, which temporarily bans citizens from seven countries — Iran, Iran, Syria, Sudan, Libya, Yemen, and Somalia — from entering the United States. In fact, a federal judge has already been successful in this legal challenge and halted a portion of Trump's immigration ban for those who arrived at American airports with previously approved refugee applications or those who were in transit with valid visas, according to The Hill.
But, this was only a temporary fix and the next step would be for the Supreme Court to weigh in on the constitutionality of the immigration ban. Of course, there is no guarantee that the Republican-controlled Congress would disagree with Trump and find this executive order unconstitutional. It's important to note, however, many political figures, both Democrats and Republicans, have already deemed it concerning, some calling it "illegal" and "dangerous."
According to The Hill, Senate Minority Leader Charles Schumer said Democrats might be able to overturn Trump's ban and are putting legislation together to do so, but will need Republicans to help them.
"If we get a few more Republicans, I think we might be able to pass legislation to overturn it," Schumer said Sunday at press conference, according to The Hill. "It will be up to getting more Republicans."
It will be tricky, but two prominent Republicans have already criticized the executive order. According to ABC News, John McCain and Lindsey Graham said in a joint statement this week that they "fear this executive order may do more to help terrorist recruitment than improve our security." So the possibility, however dim, may be there.
Overturning Trump's most controversial executive order to date is certainly going to be a long shot. But, ultimately, those who are in a political position to fight the ban are going to need the support of the Republican-controlled Congress to make this executive order a thing of the past. Here's hoping they can all get along for humanity's sake — just this once.