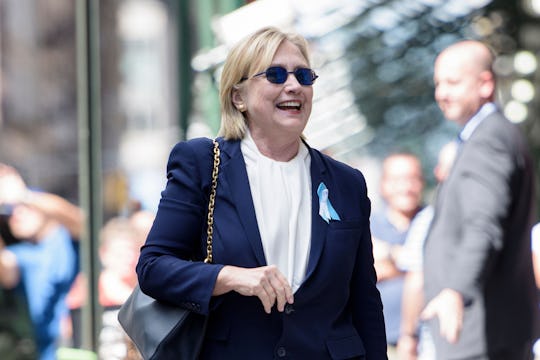 BRENDAN SMIALOWSKI/AFP/Getty Images
Can Hillary Clinton Still Campaign With Pneumonia? Her Doctors Say Yes
Former Secretary of State Hillary Clinton dominated headlines on Sunday when she was forced to leave a 9/11 memorial service after getting overheated. A video of Clinton looking wobbly on her feet, and perhaps even fainting, fueled already rampant speculation from her detractors that her health might be failing. Turns out she's been battling walking pneumonia, according to her doctor. Can Hillary Clinton still campaign with pneumonia? Her doctors say yes.
The pneumonia, which Clinton has been battling for some time her doctor said, caused her to become dehydrated, a common symptom of someone with walking pneumonia. People who have it don't feel bad enough to stay in bed, but if left untreated by antibiotics, it can certainly take a toll. According to her physician, Clinton was diagnosed with pneumonia on Friday.
"Secretary Clinton has been experiencing a cough related to allergies. On Friday, during follow up evaluation of her prolonged cough, she was diagnosed with pneumonia," Clinton's physician, Dr. Lisa Bardack said in a statement, according to NBC News. "She was put on antibiotics, and advised to rest and modify her schedule. While at this morning's event, she became overheated and dehydrated. I have just examined her and she is now re-hydrated and recovering nicely."
The Clinton campaign subsequently announced that a two-day swing through California, including an appearance on the Ellen DeGeneres Show, had been cancelled to give Clinton a little time to rest and recover. The camp claimed it would be back to the former Secretary's regular schedule at that point, according to the BBC.
Although the incident was relatively minor as health scares go, her GOP rival Donald Trump has seemingly taken the opportunity to renew questions that Clinton is too frail to be Commander in Chief.
Monday morning Trump was on Fox and Friends and announced he'd recently taken a full physical and plans to release the details of his health in the coming days, according to Newsday. "Hopefully they're going to be good," Trump said. "I feel great."
That same day, Trump told CNBC that Clinton's health scare was "quite sad," and said that he hoped "she gets well soon."
Trump will continue to try and keep health issues in the conversation with an appearance on the Dr. Oz Show to discuss his health regimen, according to Reuters.
For now, the spotlight is on Clinton's health, specifically why, if the candidate was diagnosed with pneumonia on Friday, it wasn't made public before the medical episode at the 9/11 memorial. She's been urged to be more forthcoming about her personal health information on this last leg of a long and grueling presidential campaign.
"I think it's exceedingly important that Hillary Clinton be transparent about what's going on," presidential historian Douglas Brinkley said, according to Reuters. "If she gets a report of pneumonia on Friday, they should try to tell the public in real time. The danger for a candidate is if they seem to be hiding their health history."
For now, it looks like the public will be hearing more details about both candidates' health in the days and weeks ahead.