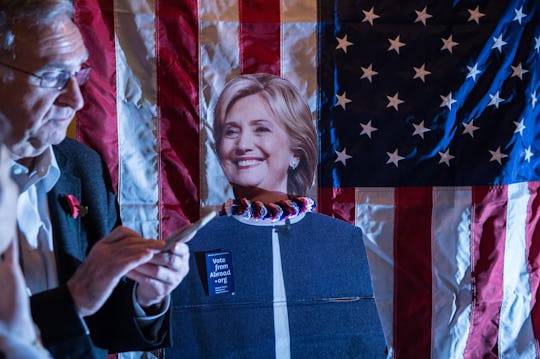 Chris J Ratcliffe/Getty Images News/Getty Images
Can Hillary Clinton Win Without Virginia? She Was Expected To Take The State
When it comes to winning an election, it's all about the swing states. And at the start of election night, there is an early lead for Republican nominee Donald Trump in one of the main swing states, Virginia. So the question on many voter's minds is can Hillary Clinton win without Virginia?
First, The New York Times reminded readers that rural, mostly Republican parts of Virginia count their votes a lot faster than the more heavily populated suburban and urban areas in the state. Those denser areas lean Democrat and could shift a Republican nominee Donald Trump lead as the night wears on.
According to Vox, Clinton has two ways to reach 270 electoral votes and one includes holding on to her six "firewall" states. Those states include Virginia, Colorado, Wisconsin, Michigan, Pennsylvania, and New Hampshire. Those states all together will give her a path to presidency. If there's a crack in any of those states and she loses one or more of them she'd have to make up for those losses with wins in: Nevada, North Carolina, and Florida.
In the weeks leading up to Election Day, many leading accounts of likely Electoral College math ranked Virginia as a solid win or close for the Democratic presidential nominee, according to The Washington Post. The statewide polls indicated a lead of six percentage points over Trump. They also showed that Clinton was leading in northern Virginia, among minority voters, and women.
There are some differing opinions on the matter that might not be exactly scientific in prognostics, but definitely worth considering. In a Politico article, former 2008 Obama campaign manager David Plouffe is quoted as saying, "Hillary Clinton can lose Florida, Ohio and Virginia, and I think she'll win all three, and still be president."
If Virginia is any indication of how the rest of the night will go it seems like it will be a long and extremely close fight to the end. The two candidates are duking it out in many competitive states where they spent a lot of money campaigning. We're not done yet, but many signs point to Clinton snagging the lead in Virginia.