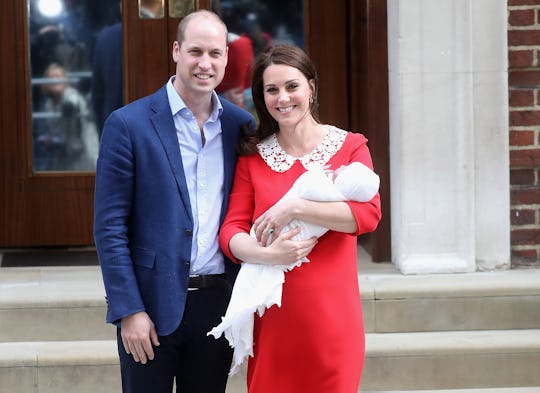 Chris Jackson/Getty Images Entertainment/Getty Images
Here's When You Can Bring A Baby To A Wedding, According To Experts
As summer approaches, and brings with it wedding season, new parents might be faced with a dilemma. Should they skip their friend or family member's special day, leave their baby with a sitter, or bring them along? And with the upcoming royal nuptials just days away, as Prince Henry of Wales prepares to marry American actress Meghan Markle at Windsor Castle in England, people are wondering when it's safe for babies to go to weddings. Of course, and like many other things in parenting, the answer is: it depends.
According to kidshealth.org, there are no hard and fast rules about when it's OK to take your baby out in public. Of course, getting out of the house and some fresh air might be just what the doctor ordered for new moms and their babies. A wedding, however, might not be the most ideal first outing for a newborn, at least not during their first few months of life. According to the Centers for Disease Control and Prevention (CDC), babies won't receive their first round of vaccinations until they are 2-months-old. As tempting as it might be to bring them to a large event, like a wedding, it could expose them and their developing immune systems to germs and put them at risk of getting sick.
The Duchess of Cambridge, Kate Middleton, clearly got the memo. It's been ported by multiple outlets that her youngest son, Prince Louis of Cambridge, will not be attending the royal wedding. Prince Louis will only be 4-weeks-old and, per Harper's Bazaar, it's "recommended that parents wait until their child is six to eight weeks old before bringing them into crowded spaces, to give their immune systems time to strengthen."
As Heidi Murkoff, author of What to Expect, told Today, it's generally fine, and even a good idea to take your baby out and about. Large indoor weddings, however, might be a bit much for them — and their health —to handle. Because your baby's immune system is new and just starting to protect their body from infections, it might be a good idea to not take your baby to weddings, especially during the winter when it seems like everyone is sick.
If the wedding is outdoors, you need to consider how to dress your baby for the occasion and keep them cool in the summer heat. According to the American Academy of Pediatrics (AAP), it can be hard for newborns to regulate their body temperature, and their skin is extra sensitive and susceptible to sunburn. Since they don't recommend sunblock for babies younger than 6 months of age, it can be challenging to keep them safe from the sun at outdoor wedding.
The CDC vaccine schedule recommends that babies receive a series of immunizations at their two month well baby check-up, to help their immune systems fight vaccine-preventable illnesses like diphtheria, tetanus, whooping cough, pneumonia, and meningitis. Until they get them, though, it's a good idea to avoid crowded events... like weddings. So, it might be best to wait until they are at least 2- to 3-months-old. Since your baby can't receive a flu shot until they are 6-months-old, it might be a good idea to avoid bringing your baby to weddings during flu season entirely if they are too young to be immunized.
If you've exhausted all other options, and absolutely must bring your newborn along with you to a wedding, Baby carrier company Wrapsody suggests keeping them close to you by wearing them in a baby carrier. As Pediatrician Christopher Tolcher, M.D. told Parents.com, most newborn babies prefer to be held more than just about anything, and will likely be just fine during a wedding or other event. However, he adds that you definitely want to avoid passing them around or letting lots of other people hold her, as you don't want to expose her to germs unnecessarily.
If your baby was premature or has a health condition that impacts their immune system, you might want to leave them with a sitter or stay home. Kidshealth.org advises that you ask your baby's doctor if it's OK to bring them to a wedding or if there are special precautions you need to take to keep them safe.