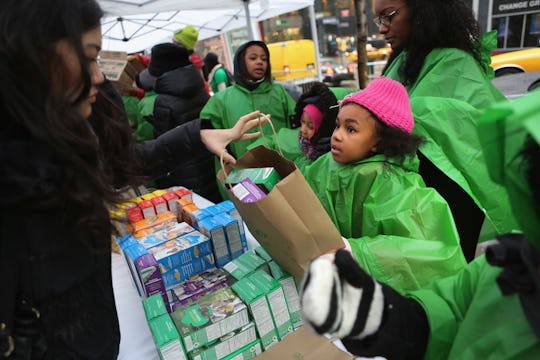 John Moore/Getty Images News/Getty Images
This Is The Only Place You Should Be Buying Girl Scout Cookies Online
Right after the new year, when your healthy eating resolutions are just starting to wane, that's when Girl Scout cookie season hits. Thanks to the wonders of social media, it's easier than ever to know when your friends' kids are selling the seasonal wonders, but did you know there are even more ways to get your fix, thanks to the beauty of the internet? If you've ever wondered if you can buy Girl Scout cookies online, you'll be happy to know your fix is a few clicks away.
There are some Girl Scout cookies online on sites like Amazon, but these aren't offered from the official organization, so you can't guarantee that they're authentic, fresh, or as delicious. The only way you can ensure your Thin Mints are the real deal is by interacting with a troop member directly, whether in person or through their Digital Cookie platform. If you buy the much-loved treats anywhere other than from a Girl Scout herself, you run the risk that they might be from last year's batch, they will possibly have a high mark-up, and you don't know for sure that they're coming from the cookie warehouse.
For decades, you could only buy Girl Scout cookies from a bona fide Brownie, Daisy, Cadette or Ambassador, face to face. Or from their parent who worked in your office. But now you can use a few of the organization's online tools to connect with a Girl Scout and get your cookie fix.
The Find Cookie tool on the Girl Scouts website lets you find a troop in your area that is selling cookies at a public spot. You simply enter your zip code and the site will give you a list of upcoming cookie sales in your 'hood, most often at grocery stores. The list will also include the distance from your zip code to the sale, which in some instances might be right around the corner. Alternatively, you can download the Find Cookie app onto your iPhone or Android device, which will, like the tool, will pinpoint you to all the sellers near you.
Both of these options will still require you to leave your house to seek out the cookies, which might not be what you're looking for. Instead, to buy cookies online, you can use the Girl Scouts Digital Cookie platform, which launched in 2015. It's only currently available in certain areas and troops, and you'll have to contact your local council or a participating scout to get an invitation to the specific member's page, but once you're in, you can buy your cookies online from a budding entrepreneur who is using the platform to sell cookies.
One of the added bonuses of the Digital Cookie platform is that it helps these youngsters gain some valuable business experience — and let's be real, selling online is some pretty good experience for a girl to learn at an early age. Their official website explains, "Through her personalized cookie site, she has access to fun quizzes, games, and videos that teach her about marketing, budgeting, resource allocation, and other critical business skills— encouraging her and guiding her as she makes her way to cookie boss success."
If you know a Scout but she doesn't live close to you, you can ask her (or her parent) if she's selling using the Digital Cookie platform and get connected that way. You'll be able to pay online and have the cookies shipped directly to you, at an extra cost.
The Girl Scout website cautions against buying cookies on sites like Amazon or eBay because they can't guarantee the freshness of the product. Troops only sell cookies in the aforementioned ways, so if you see cookies anywhere else, you should think twice about adding those products to your cart because you probably won't end up getting the product you crave.
Check out Romper's new video series, Romper's Doula Diaries:
Watch full episodes of Romper's Doula Diaries on Facebook Watch.